At ICESCO Headquarters… Officials, Experts and Astronauts Explore the Future of Space Science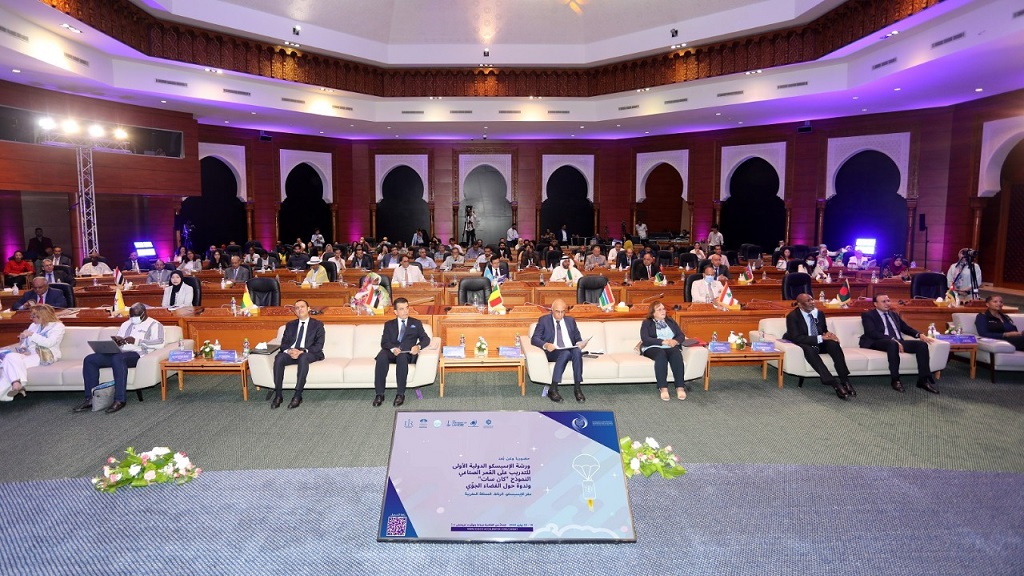 18 July 2022
During the launch of ICESCO's International Aerospace Symposium, the participants explored future prospects and investigated ways to meet its challenges by examining the latest developments in space science and applications. The Forum is held by the Islamic World Educational, Scientific and Cultural Organization (ICESCO), in cooperation with the International University of Rabat (UIR) and Cadi Ayyad University in Marrakech, the Kingdom of Morocco, under the theme "Building Tomorrow's Global Workforce," with the participation of a high-caliber host of officials, international experts, astronauts, researchers, professors and students from the Islamic world and beyond.
The Forum, which kicked off on Monday, July 18, 2022, at ICESCO Headquarters and via videoconference, opened with an international seminar aimed at exploring the latest developments in space science. The seminar began with the recitation of verses from the Holy Quran, followed by the remarks of Dr. Raheel Qamar, Head of ICESCO's Science & Technology Sector, in which he expressed his delight at this event that highlights the Organization's efforts toward encouraging exchanges of expertise in space science among researchers and scientists.
In his address, Dr. Salim M. AlMalik, ICESCO Director-General (DG), noted the technological and economic revolution achieved by humanity in the area of space science, emphasizing that the ensuing transformations compel us to seize the opportunities presented by this field, promote skills, build capacities, and disseminate knowledge on all phases of space industries.

ICESCO DG also reviewed a set of solutions offered by space science to develop information systems for controlling and monitoring areas that are likely to be affected by natural disasters, floods, wildfires, drought and desertification, stressing that this motivates the Organization to contribute to the design and launch of satellites and cooperate with regional and international specialized authorities to enhance the Islamic world's competitive capabilities in space industries.
Mr. Youness Sekkouri, Minister of Minister of Economic Inclusion, Small Business, Employment and Skills in the Kingdom of Morocco, commended the Forum, which he described as unique, noting that space science has become a fundamental element of entrepreneurship and public policies.
In his address, Dr. Abdellatif Miraoui, Minister of Higher Education, Scientific Research and Innovation in the Kingdom of Morocco, highlighted the importance of space science and applications in monitoring natural disasters, managing climate change and fostering security and peace, noting Morocco's efforts to enhance scientific research in this area.
For her part, Ms. Aawatif Hayar, Minister of Solidarity, Social Integration and Family in the Kingdom of Morocco, underscored that all segments of society should be involved in space industries, particularly women, girls and people with special needs, adding that space science must be integrated into educational systems.
Dr. Frédéric Ouattara, Minister of Higher Education, Research and Innovation in Burkina Faso, stated that strengthening human resources is crucial for the success of any sustainable space project, underlining the importance of the expertise that universities in the African countries should provide.
For his part, Dr. Modibo Diarra, Chairman of Microsoft Africa and Former NASA Expert, praised ICESCO's efforts and its continuing cooperation with the Member States, institutions and universities, to equip the new generation with basic knowledge of space science.

Dr. Sian Proctor, an Astronaut, shared her exceptional experience in this field and recounted how she realized her dream of exploring space, pointing out that space science should be accessible to all to serve humanity at large.
Following the inaugural session, Ms. Shelli Brunswick, Chief Operating Officer at Space Foundation, moderated the first session on "Advancing Space Innovation with Global Partners," which featured interventions by Dr. Shinichi Nakasuka, Professor in the Department of Aeronautics and Aerospace at the University of Tokyo, Dr. Moulay Lhassan Hbib, President of Cadi Ayyad University, Dr. Abdelaziz Benjouad, Vice President of UIR, Dr. Raheel Qamar, Head of ICESCO's Science and Technology Sector, Dr. Elchin Babayev, Rector of Baku State University, Ms. Christina Korp, Director of Space for a Better World, and Dr. Alim Rustem Aslan, Professor in the Department of Astronautical Engineering at Istanbul Technical University.