ICESCO Director-General Meets with Prime Minister of Cameroon in Yaounde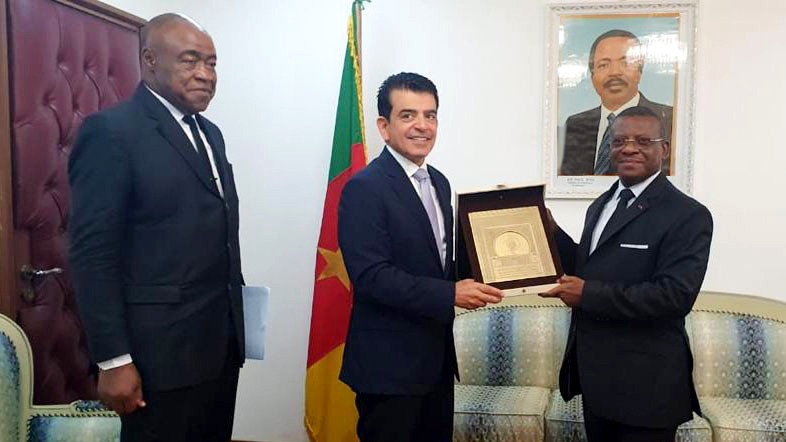 1 July 2022
Dr. Salim M. AlMalik, Director-General of the Islamic World Educational, Scientific and Cultural Organization (ICESCO), met Mr. Joseph Dion Ngute, Prime Minister of the Republic of Cameroon, at the Cabinet Office in Yaounde, and together discussed cooperation between ICESCO and Cameroon in the fields of education, science and culture.
At the beginning of the meeting, which was attended by Mr. Bidoung Kpwatt Ismaël, Minister of Arts and Culture of Cameroon, Dr. AlMalik commended the creativity and good organization of the ceremony that marked the launch of the Celebration of Yaounde as Culture Capital in the Islamic World for 2022, expressing his thanks to H.E. President Paul Biya for his patronage of the Celebration and to the Prime Minister for chairing and attending the ceremony. Dr. AlMalik also reaffirmed that ICESCO will work in close cooperation with the Cameroonian authorities to sustain the success of the Celebration which will feature a year-long program of activities and events.
For his part, the Prime Minister welcomed the visit of the Director-General, stressing that Cameroon accords great attention to cooperation with the Organization. He stated that the Cameroonian Government will provide the necessary support to all the activities of the Celebration of Yaounde as Culture Capital in the Islamic World and will ensure the organization of a closing ceremony with the same high levels of organization and creativity.
During the meeting Dr. AlMalik highlighted ICESCO's vision and strategic orientations and the Organization's priority issues, notably building the capacities of women and children, safeguarding heritage, anchoring the values of peace and civilizational dialogue, and promoting Member States' investment in modern technology to achieve sustainable development.
Likewise, the Director-General talked about the major programs and activities implemented in cooperation between ICESCO and the Cameroonian authorities, in coordination with the National Commission for Education, Science and Culture of Cameroon, noting that ICESCO takes into consideration the priorities of each Member State in designing its programs and activities.
At the close of the meeting, the Director-General presented the Prime Minister with an ICESCO Shield to commemorate the meeting.
The meeting was attended by a number of the Prime Minister's advisors, the Secretary-General of the Cameroonian National Commission, and Dr. Mohamed Zinelabidine, Head of ICESCO's Culture Sector.