ICESCO Takes Part in Qatar University's Celebration of Publication of First Volume of Encyclopedia of Occidentalism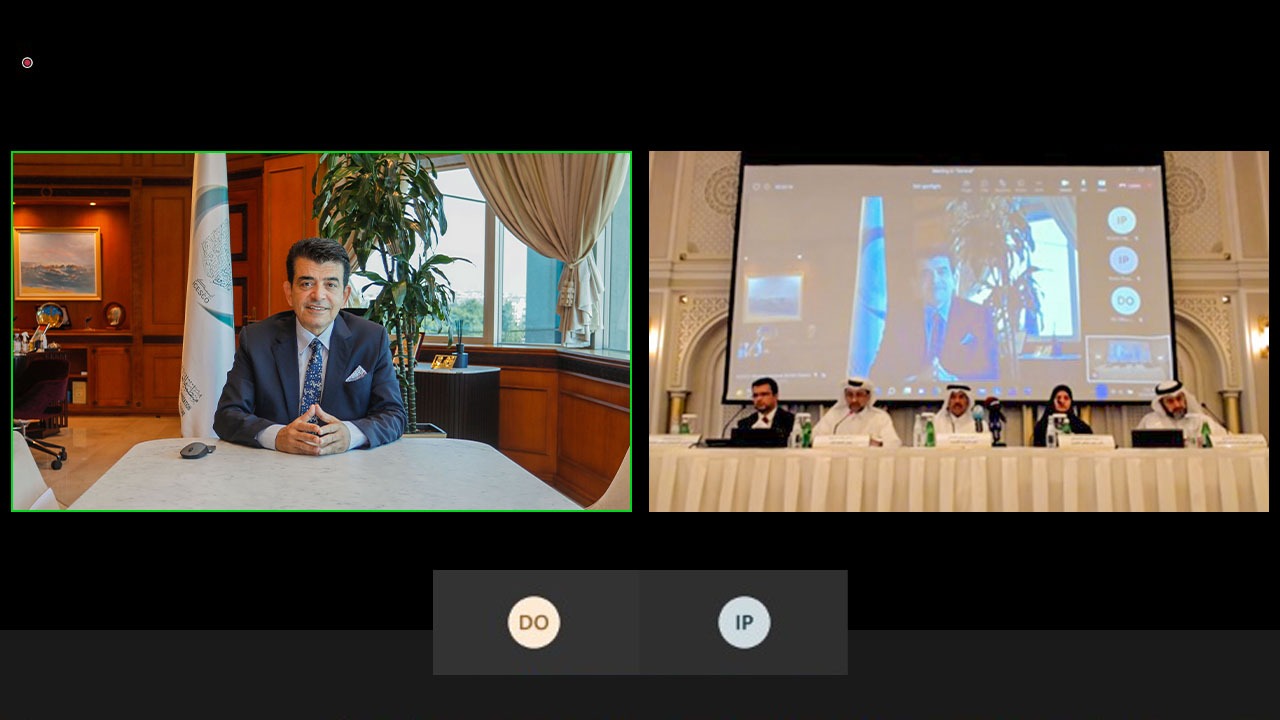 24 May 2022
Dr. Salim M. AlMalik, Director-General (DG) of the Islamic World Educational, Scientific and Cultural Organization (ICESCO), noted that the publication of the first volume of the Encyclopedia of Occidentalism, which is elaborated by the ICESCO Chair for Civilizational Dialogue at Qatar University's College of Sharia and Islamic Studies (QU-CSIS), introduces a new vision that accommodates the human and intellectual developments that have taken place after years of adopting a narrow approach to assessment and evaluation, indicating that the central Western culture is facing intense internal strife.
This statement came in the address he delivered, via videoconference, during the ceremony organized by Qatar University on May 23, 2022, in celebration of the publication of the first volume of the encyclopedia, which is the first scientific work in the Islamic world that studies the West. The encyclopedia was elaborated with the support of ICESCO's Federation of the Universities of the Islamic World (FUIW), and the Qatar Committee for the Alliance of Civilizations at the Ministry of Foreign Affairs. The celebration saw the participation of high-level Qatari officials and prominent academics and scientific figures.
In his address, Dr. AlMalik expressed his delight at the encyclopedia that he denoted as authentic, bold, judicious and unique, being the first work in the Islamic world that analyses Occidentalism through a scientific prism and compiles its historical and cultural concepts into an encyclopedia.
He also expressed his pride in the fruitful cooperation between ICESCO and Qatar University, which testifies to the effectiveness of the division of labor despite geographic distances. He also commended ICESCO's scientific and cultural chairs' programme, noting that the Organization established forty scientific chairs over the past two years.
ICESCO DG conveyed his gratitude to Qatar University and its College of Sharia and Islamic Studies, and to ICESCO Chair for Civilizational Dialogue at the same University, as well as to all the researchers who brought this project to fruition.
In their interventions, the speakers emphasized the importance of promoting scientific research in the field of civilizational dialogue and exploring its intellectual, scientific, religious, social and historical aspects.
At the close of the celebration, Dr. Hassan Rashid Al-Derham, President of Qatar University, presented ICESCO DG with a special prize in recognition of his efforts toward developing and modernizing the Organization. Tribute was also paid to many of the researchers who contributed to the elaboration of the encyclopedia.