ICESCO Hosts 4th International Conference on Advanced Intelligence Systems for Sustainable Development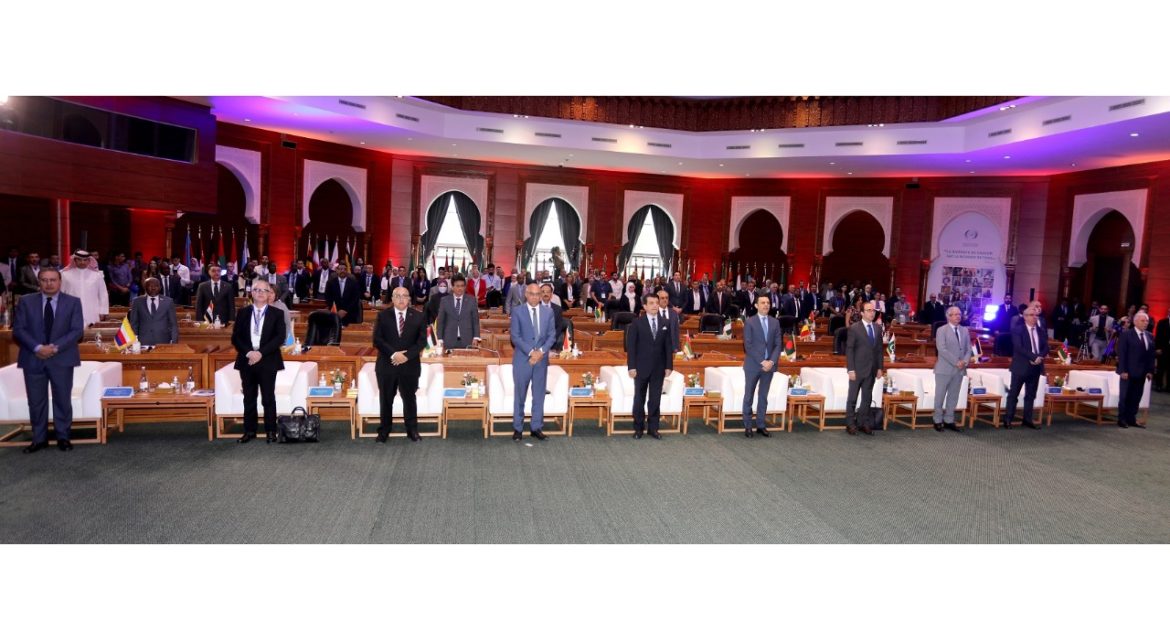 24 May 2022
The Headquarters of the Islamic World Educational, Scientific and Cultural Organization (ICESCO) in Rabat hosted the 4th International Conference on Advanced Intelligent Systems for Sustainable Development, held under the patronage of His Majesty King Mohammed VI, may Allah assist him.
The Conference is organized by the National School of Arts and Professions (ENSAM) at the Mohamed V University in Rabat, in partnership with ICESCO and its Federation of the Universities of the Islamic World (FUIW), and Abdelmalek Essaadi University in Tetouan. The event saw high-caliber participation including ministers, ambassadors and a host of academicians and specialists in the fields of modern technology and digital systems.
The opening session kicked off today, Tuesday, May 24, 2022, with the recitation of verses from the Holy Quran, followed by a general overview by Dr. Omar Halli, Advisor to the Director-General (DG) for the FUIW, where he noted that this conference is a major international event bringing together more than 350 participants from 20 countries.
In his address, Dr. Abdellatif Miraoui, Minister of Higher Education, Scientific Research and Innovation of the Kingdom of Morocco, stated that Morocco has chosen the digital model and adopted digitization as a pillar of sustainable development. He added that it is important to capitalize on the capacities and talents of young people and hone their digital skills to achieve development and prosperity.
In his address, Dr. Salim M. AlMalik, ICESCO DG, stressed the need to reconsider curricula in schools and higher education institutions, noting that universities have comprehensive visions that contribute to identifying today's needs. He added that development has become heavily reliant on the applications of modern virtual technology and digital systems are now a prerequisite for keeping up with future changes.
"ICESCO seeks to promote artificial intelligence and conclude partnerships with the major global space institutions. It accords strong attention in its plans to issues about developing digital education in the Islamic world, encouraging innovation initiatives among young people, linking research scientific studies with contemporary needs, and supporting university institutions to adopt optimal curricula for further innovation," added ICESCO DG.
In his address, Mr. Younes Sekkouri, Moroccan Minister of Economic Integration, Small Enterprises, Employment and Competencies, stressed the need to develop policies and programmes likely to strengthen intelligent systems, bridge the gap between researchers and develop the investment market.
For his part, Dr. Mohammed Rhachi, President of Mohammed V University in Rabat, highlighted the close relationship between economic development and social development. "Morocco strives to promote scientific and technological research in the private sector and universities," added Dr. Rhachi.
Dr. Khalid El-Bikri, Director of the National Higher School of Arts and Professions in Rabat, reviewed the school's efforts in training generations of engineers and researchers through its various programmes that attach special importance to modern technology. Dr. Mostafa Ezziyyani, Professor at Abdelmalek Essaadi University, Chairman of the Conference, pointed out the conference's role in developing innovative ideas by finding academic solutions to various economic problems.
After the opening session, Dr. Ibrahim Adam Ahmed El-Dukheri, Director-General of the Arab Organization for Agricultural Development; Mr. Karim Amor, President of Moroccan Entrepreneurs worldwide at CGEM, which is dedicated to Moroccan entrepreneurs and High Potentials of the World; and Mr. Hicham El-Abbadi, Business Sales Manager Afrique Francophone at Epson, as well as the guests of honor stressed the importance and role of technology in achieving sustainable development and facing challenges.
Afterward, the Conference presented appreciation awards for international excellence in scientific research to ICESCO DG, the President of Mohammed V University and the President of Abdelmalek Essaadi. Awards were also granted to the winners at the innovation competition. Besides, the participating universities signed several agreements in the field of scientific research and innovation before the beginning of the working sessions of the conference.