ICESCO Takes Part in "Russia – Islamic World: Kazan Summit 2022″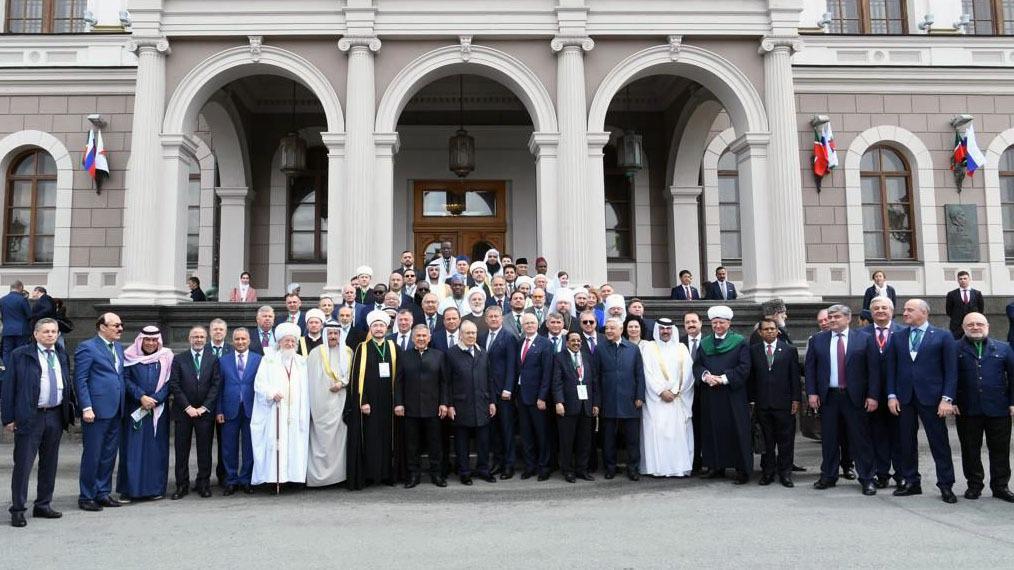 23 May 2022
The Islamic World Educational, Scientific and Cultural Organization (ICESCO) took part in the International Economic Summit "Russia-Islamic World: Kazan Summit 2022," held in Kazan, capital of the Republic of Tatarstan in the Russian Federation, on May 19-21, 2022. The event brought together representatives of 63 countries and 52 Russian regions.
The opening session of the summit was chaired by Mr. Rustam Minnikhanov, President of the Republic of Tatarstan, Chairman of the "Russia-Islamic World" Strategic Vision Group, and saw the attendance of Mr. Maxim Reshetnikov, Minister of Economic Development of the Russian Federation, and Sheikh Abdul Rahman bin Mohammed bin Rashid Al Khalifa, President of the Supreme Council for Islamic Affairs (SCIA), along with several high-level personalities and officials.
Dr. Kais Hammami, Head of ICESCO Center for Strategic Foresight, represented the Organization at the summit. In his interventions during the sessions, he reviewed the Organization's vision and strategic orientations, as well as its major initiatives and programmes highlighting the importance of foresight for effective strategic planning through an anticipatory approach predicated on investment in the future for the benefit of youth and coming generations, and the consolidation of peace, harmonious coexistence and civilizational dialogue.
The ICESCO official also reviewed ICESCO's efforts towards countering extremist speech through the publication of the Encyclopedia on Deconstructing the Discourse of Extremism, in cooperation with the Mohammadia League of Scholars, in the Kingdom of Morocco, which is aimed at monitoring the various discourses of radicalism and extremism, and contributing to immunizing young people against these ruinous ideologies.
Dr. Hammami held various meetings on the sidelines of the summit, notably with Mr. Farid Mukhametshin, Deputy Chairman of the "Russia-Islamic World" Strategic Vision Group, and Mr. Ayrat Akhmedov, Head of the Group's International Relations Department. During the meeting, which touched upon ways to enhance cooperation between ICESCO and the Group in fields related to youth, Dr. Hammami reviewed the programmes and activities that ICESCO has implemented in this respect, including the "Future Imagined by Young Artists" Programme.
The ICESCO official participated in the inauguration of the Russia Halal Expo 2022, which is held as part of the summit's activities and aimed at promoting development and cooperation in the fields of trade, economy, science and technology, and fostering partnerships between Russia and the countries of the Islamic world. He also took part in the groundbreaking ceremony for the construction of a mosque at "Kirlay" amusement park as part of the 1100th anniversary of the adoption of Islam by Volga Bulgaria.