Signing of an agreement to establish ICESCO Chair for Biomedical Materials at Baku State University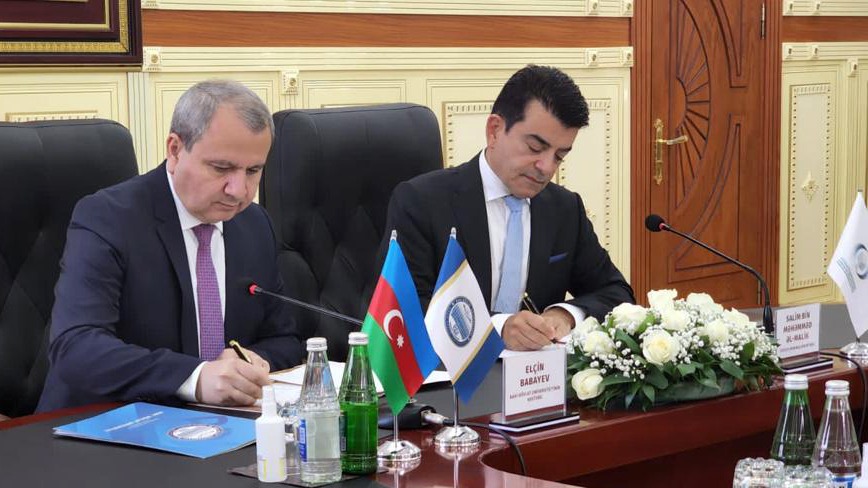 19 May 2022
The Islamic World Educational, Scientific and Cultural Organization (ICESCO) and Baku State University in the Republic of Azerbaijan signed an agreement to establish the ICESCO Chair for Biomedical Materials at the University, to promote scientific research and join the efforts of scientists, researchers, physicians and the representatives of biomedical industry sector to develop advanced antimicrobial materials for use in biomedicine.
Dr. Salim M. AlMalik, ICESCO Director-General (DG), and Dr. Elchin Babayev, President of Baku State University, signed the agreement, on Wednesday (18 May 2022), in the presence of several officials, deans of faculties and university students, as well as Dr. Foued Al-Ayni, Expert at ICESCO Science and Technology Sector, during the visit of Dr. AlMalik to Baku State University, as part of his visit to the Republic of Azerbaijan, to attend the International Conference on "Advancing the Post-Conflict Humanitarian Agenda: Sustainable Development through Revitalization of the Cultural Environment."
In his statement at the signing ceremony, Dr. AlMalik commended the partnership between ICESCO and the University and hoped that such step would be the start of constructive cooperation to establish similar chairs in other universities in the Islamic world to contribute to the development of scientific research, innovation and technology.
For his part, Dr. Babayev commended ICESCO's efforts and support for scientific research, stressing the importance of the programmes implemented in cooperation between the Organization and the University, and his keenness to develop their partnership.
According to the terms of the agreement, the Chair aims to develop the initial design of the pre-clinical efficacy tests, conduct studies on pharmacokinetics to carry out clinical trials, manufacture new nanocomposites with antimicrobial properties, and study the physical and chemical properties of nanocomposites.
This Chair is part of ICESCO's vision to engage scientists and intellects, enhance cooperation between experts and researchers from academia, international laboratories and educational institutions, and promote sustainable development within and outside the Member States.
At the close of the signing ceremony, the President of Baku University presented the University Shield to ICESCO DG in appreciation of his efforts in supporting the development of scientific research. Dr. Al-Malik also presented ICESCO Shield to Dr. Babayev in appreciation of the University's contribution to the promotion of science and technology in Azerbaijan.