ICESCO Women Poets Forum Holds Three Meetings to Celebrate Creative Women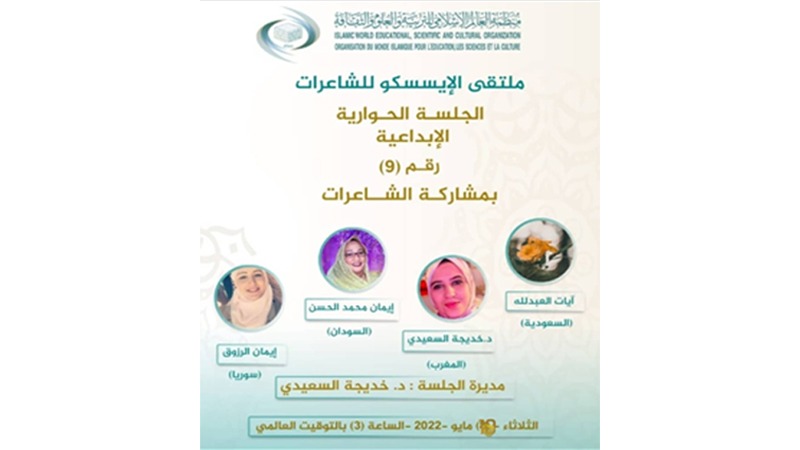 14 May 2022
ICESCO Women Poets Forum, chaired by the Sudanese poet Rawda Al-Haj, held three meetings, as part of its creative activities and periodic meetings, to celebrate and introduce the creative women poets and their poetic experiences, which include poetry readings and interventions by members of the forum, critical appraisals and video screenings for the participants in these sessions.
The first session, moderated by Dr. Karima Bichiwa from Libya, reviewed the experiences of two poets, Eman Al-Saeedi from Yemen and Eman Saad from Egypt. The second session, moderated by the poet Nidaa Younes from Palestine, touched upon the experiences of poets Eman Zeyad from Palestine, Eman Al-Kashef from Egypt and Eman Bahnassy from Syria. The third session, moderated by Dr. Khadija Al-Saidi from Morocco, dealt with the experiences of poets Eman Al-Razzouk from Syria, Eman Muhammad Al-Hassan from Sudan and Ayan Al-Abdullah from Saudi Arabia.
Moreover, the poet Salwa Rabhi from Tunisia represented the ICESCO Forum of Women Poets in the third session of the two-day Forum "Ashi'ru Ya'lu" (Poetry Rises), which started on May 12, 2022, at Ibn Khaldoun House of Culture, in Tunis, where she delivered a speech and a poem from her collection "Dama'ir attufan."
This event was organized at the initiative of the poet Besma Marouani, president of Phoenix Forum for Creators. Sign language was also provided for people with special needs.