ICESCO Women Poets Forum Continues to Celebrate Creative Women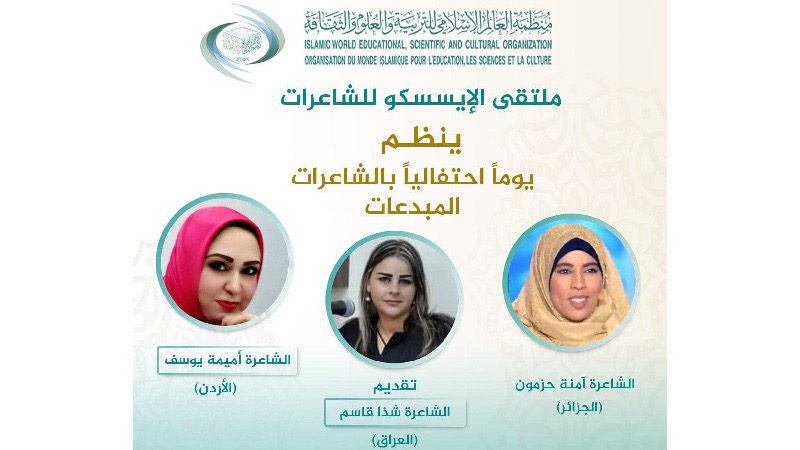 8 May 2022
The ICESCO Women Poets Forum continues its creative activities and holds periodic meetings aimed at celebrating and introducing creative women poets and their poetic experiences. These meetings feature poetry recitation, interventions, critical appraisals and video screenings.
In this respect, the forum recently held two sessions. The first session touched upon the experiences of the Jordanian poet Omaima Youssef and the Algerian poet Dr. Amna Hazmoun, and was moderated by the Syrian poet Shatha Qassem. The second session reviewed the experiences of the Lebanese poet Asil Siklawi and the Palestinian poet Amal Ghazal, and was moderated by the Tunisian poet Salwa Rabhi.
The ICESCO Women Poets Forum, chaired by the Sudanese poet Rawda Al-Haj, continues to hold its creative meetings regularly and prepares to publish the first issue of the "Shawa'ir" magazine on women's literature.
It is worth noting that the Islamic World Educational, Scientific and Cultural Organization (ICESCO) announced the launch of the ICESCO Women Poets Forum during the celebration of the World Poetry Day, which was held by the Organization on March 31, 2022, under the theme "Perspectives of Women's Poetry" to express appreciation for women poetry and offer women poets a space for creative exchange.