Launching Faisal Book Fair as Part of Celebrating Cairo as Culture Capital in Islamic World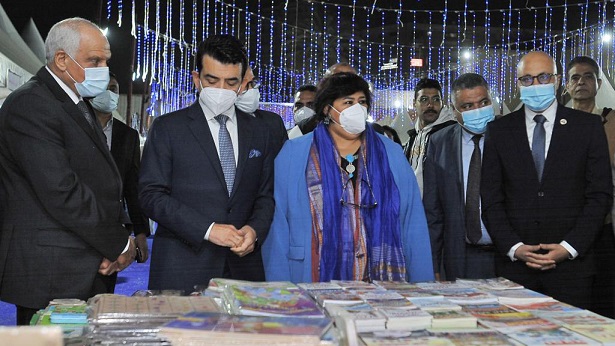 13 April 2022
Dr. Salim M. AlMalik, Director-General (DG) of the Islamic World Educational, Scientific and Cultural Organization (ICESCO), Dr. Enas Abdel Dayem, Egyptian Culture Minister, and Major General Ahmed Rashid, Governor of Giza, launched on Tuesday evening, April 12, 2022, the 10th edition of Faisal Book Fair and the cultural and artistic activities accompanying the Fair within the framework of the celebration of Cairo as Culture Capital in the Islamic world.
The Fair, organized by the Egyptian General Book Authority, headed by Dr. Haitham Al-Hajj Ali, head of the authority, is held on an area of 3,000 square meters on King Faisal Street in Giza Governorate, with the participation of 33 publishing houses, including sectors of the Ministry of Culture, the Supreme Council for Islamic Affairs, the Ministry of Endowments and Dar Al Maaref. The Azbakeya Wall also participates with two libraries and several private publishing houses. The Fair includes a pavilion for the "Your Culture Is Your Book" initiative, which offers books at cheap prices starting from one Egyptian pound to twenty pounds, as well as all the magazines and series issued by the Egyptian Book Authority.
After the tour of the Book Fair pavilions, ICESCO DG, the Minister of Culture and the Governor of Giza attended a performance by the children of the El Shams Band for persons with special needs, led by the artist Wafaa Al-Hakim affiliated with the Theater House of the Egyptian Ministry of Culture. The band succeeded in attracting the attention of the audience, who interacted with its songs.
They also inspected an exhibition of rare historical documents that narrate part of the biography of the ancient city of Cairo, on the occasion of the celebration of Cairo as Culture Capital in the Islamic world, by the General Authority for National Library and Archives headed by Dr. Nevin Moussa along with several drawing and traditional crafts workshops and a special corner for VR glasses to display children's stories. They also attended a performance of the traditional skirt by the little girl, Toqa, with special needs from the National Center for Child Culture.