ICESCO Director-General Meets Egyptian Minister of Immigration, in Cairo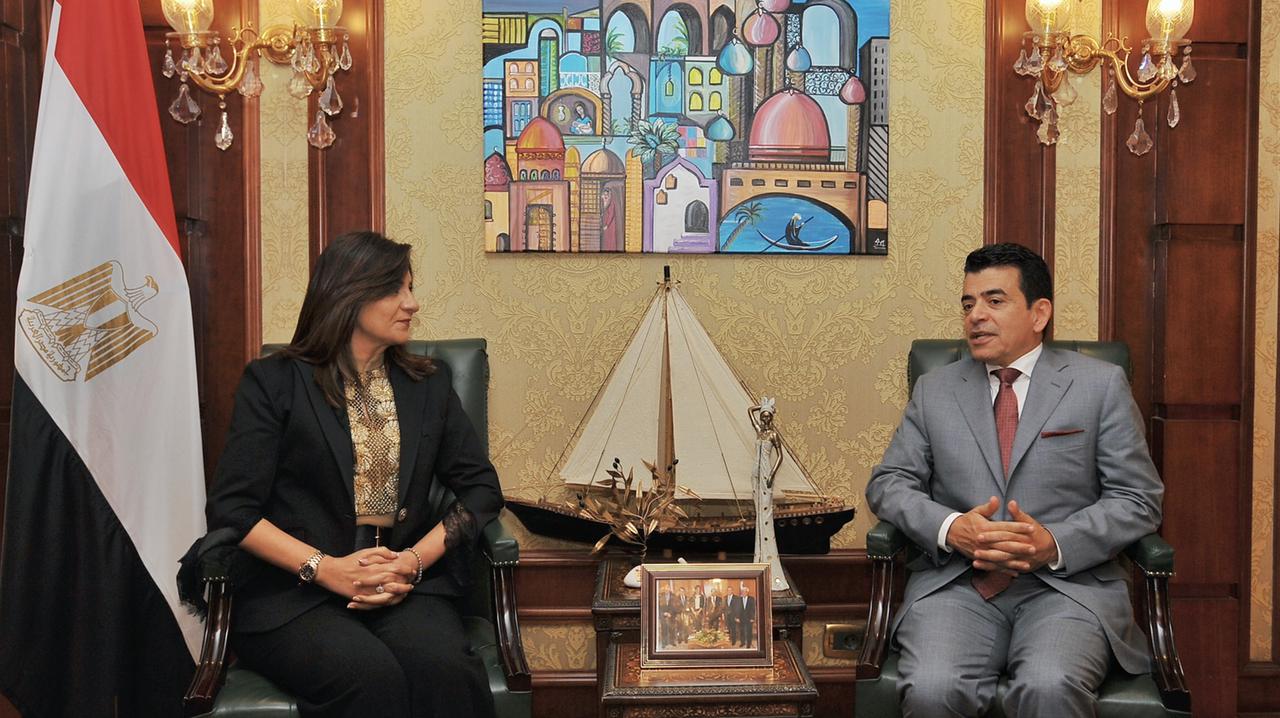 11 April 2022
Dr. Salim M. AlMalik, Director-General of the Islamic World Educational, Scientific and Cultural Organization (ICESCO), met Ambassador Nabila Makram Abdel Shaheed, Minister of State for Immigration and Egyptians Abroad Affairs of the Arab Republic of Egypt, where they discussed prospects for cooperation between ICESCO and the Ministry in areas of common interest.
During the meeting, held on Sunday (April 10, 2022), at the Ministry's headquarters in Cairo, Dr. Al-Malik reviewed ICESCO's forward-looking vision and the mainlines of its strategic orientations by 2025, which adopts an open-door approach for cooperation with all parties to serve the Member States and Muslim communities around the world.
Besides, Dr. AlMalik pointed out that ICESCO devotes special attention to training and building the capacities of young people in leadership for peace and security to consolidate the values of coexistence and civilizational dialogue. "In a bid to promote the status of the Arabic language, ICESCO has established the Center of Arabic for Non-Arabic Speakers as well as several regional centers to contribute to the preservation of the identity of young people in the Islamic world and the children of Muslim immigrants, especially the second and third generations," he added.
For her part, Ambassador Nabila Makram welcomed Dr. AlMalik and his delegation and reviewed the main axes and objectives of the presidential initiative "Speak Arabic" that the Ministry of Immigration launched under the kind patronage of President Abdel Fattah El-Sisi to foil any attempts to destabilize the identity of Egyptians living abroad, strengthen their spirit of patriotism, and consolidate the values of peaceful coexistence, citizenship and acceptance of the other.
The Minister referred to her meeting with President Abdel-Fattah El-Sisi, which touched upon the developments of the presidential initiative "Speak Arabic," stressing that the President gave his instructions to expand the scope of the interactive educational programs aimed at linking Egyptian youth abroad to their homeland and urging them to learn Arabic and consolidate their Egyptian identity.
The meeting also discussed proposals for cooperation between ICESCO and the Ministry within the framework of the Celebration of Cairo, Culture Capital in the Islamic World. The proposals mainly focus on the mechanisms for disseminating the messages of the "Speak Arabic" initiative, emphasizing its importance and promoting its objectives, foremost of which is the preservation of identity.