ICESCO's Arabic Language Training Workshop for Non-Arabic Speakers Kicks Off in UK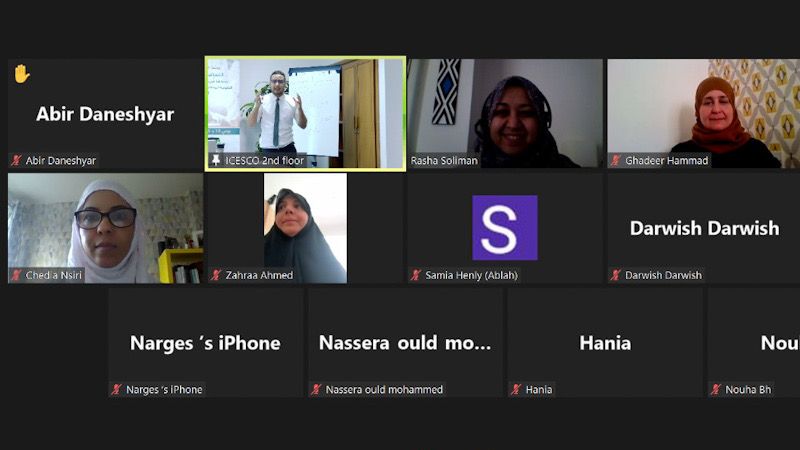 19 March 2022
The training workshop on educational linguistics and its role in developing the language skills of non-Arabic speaking students learning the Arabic language kicked off on Friday, March 18, 2022, via videoconference. The workshop is organized by the Islamic World Educational, Scientific and Cultural Organization (ICESCO) in cooperation with the Arabic Language Department at the University of Leeds in the United Kingdom.
The training workshop is held in light of ICESCO's new vision endeavoring to develop and upgrade strategies for teaching Arabic to non-Arabic speakers in line with modern educational approaches in and beyond the Organization's Member States.
The workshop, which will also take place on Friday, March 25, 2022, is aimed at developing the competencies and teaching abilities of over thirty Arabic teachers from various schools and institutions in the UK's Yorkshire region. By leveraging the latest developments in educational linguistics and techniques for developing the four skills of language learning (listening – speaking – reading – writing) according to proficiency levels, the workshop seeks to enable participants to prepare supplementary instructional materials for teaching Arabic.
The two-day workshop will feature interventions and presentations tackling three major topics: the challenges and difficulties in teaching Arabic in the UK, the major educational strategies for teaching language skills, and models for preparing supplementary courses to scale up skill development strategies.
Dr. Youssef Ismaili, an Expert at ICESCO Center of Arabic for non-Arabic speakers, is in charge of the supervision and oversight of the organizational aspects of the workshop.