ICESCO DG Receives IOFS DG in Rabat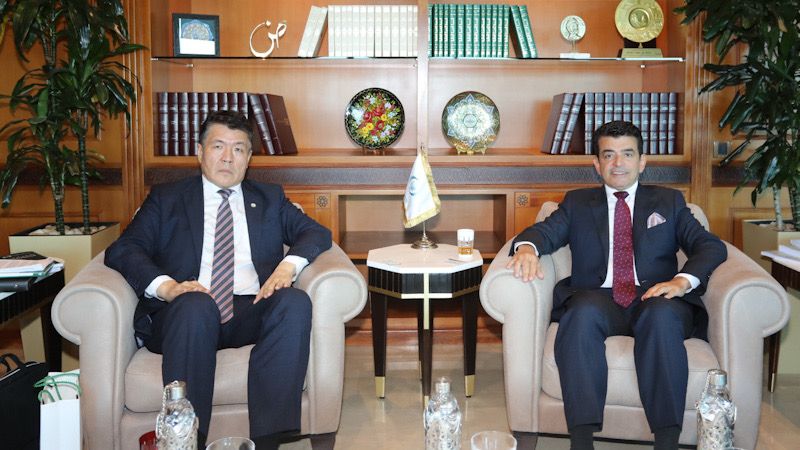 11 March 2022
Dr. Salim M. AlMalik, Director-General (DG) of the Islamic World Educational, Scientific and Cultural Organization (ICESCO), received Dr. Yerlan Baidaulet, Director-General of the Islamic Organization for Food Security (IOFS), and together explored avenues of cooperation between the two Organizations in various areas of common interest.
During the meeting, held at ICESCO Headquarters in Rabat, on Thursday, March 3, 2022, the two parties emphasized their keenness to build fruitful cooperation, particularly in the field of technology and innovation. This cooperation is aimed at the enhancement of crop productivity and the genetic improvement of plants and livestock as a contribution towards the achievement of food self-sufficiency in the Islamic world.
Dr. AlMalik noted that ICESCO's new vision is grounded upon the principle of openness to all and serves the Organization's Member States and Muslim communities around the world. He also reviewed ICESCO's initiatives and programmes that were implemented in cooperation with relevant authorities in the Member States and several donors to mitigate the negative impact of COVID-19 on the educational, scientific and cultural fields.
For his part, Dr. Baidaulet reviewed the major programmes launched by IOFS, which is based in Almaty city in Kazakhstan, as well as its areas of interest, particularly those related to producing halal food production and assisting vulnerable countries in developing their capacities in agricultural and livestock production.
IOFS DG also extended an invitation to ICESCO DG to attend the international conference on food security to be held by the Organization next June in Kazakhstan.
At the close of the meeting, the two parties agreed on sustaining coordination between the two Organizations and organizing continuous meetings between experts to agree on practical cooperation programs based on outcomes and outputs that will serve the countries of the Islamic world.