Announcement of hosting International Exhibition and Museum of Prophet's Seerah at ICESCO Headquarters in Rabat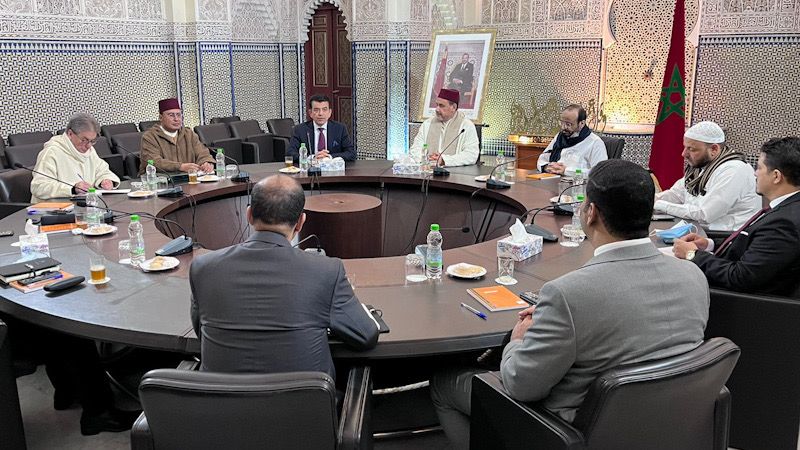 26 February 2022
The Islamic World Educational, Scientific and Cultural Organization (ICESCO), the Muslim World League and the Mohammadia League of Scholars in the Kingdom of Morocco announced the launch of arrangements for hosting the International Exhibition and Museum of the Prophet's Seerah, based in Al-Madinah Al-Munawwarah and Makkah Al-Mukarrama, in Rabat, Kingdom of Morocco. This major project will be organized under the high patronage of His Majesty King Mohammed VI of Morocco, may Allah assist him, as part of the Celebration of Rabat as the Culture Capital in the Islamic World for 2022.
The three institutions made this announcement following a meeting between H.E. Dr. Salim M. AlMalik, ICESCO Director-General; H.E. Dr. Ahmed Abbadi, Secretary-General of the League; and H.E. Dr. Nasser bin Musfir Al-Qurashi Al-Zahrani, Board Secretary of Exhibitions and Museums at the Muslim World League, who represented Dr. Muhammed bin Abdulkarim Al-Issa, Secretary-General of the League. The meeting also saw the participation of officials from the three institutions.
At the beginning of the meeting, held Friday 25 February 2022, at the headquarters of the Mohammedia League of Scholars, the parties expressed their heartfelt thanks to His Majesty King Mohammed VI, may Allah assist him, for his high patronage, support and royal instructions to host this major landmark and facilitate all related procedures.
The meeting discussed the arrangements for hosting the Exhibition and Museum and agreed on the necessary organizational measures for this civilizational project, which numerous Arab and Muslim Capitals compete to hold.
In the same vein, given its special location in Rabat as well as its equipped and modern halls and infrastructure, the three parties agreed to host the Exhibition and Museum at ICESCO Headquarters, to tour its facilities and set the measures for the Exhibition and take stock of building plans and the infrastructure prepared for this purpose to ensure that the Exhibition is open to visitors shortly.
The International Exhibition and Museum of Prophet's Seerah, which is based in Al-Madinah Al-Munawwarah, receives the special attention and high patronage of the Custodian of the Two Holy Mosques, King Salman bin Abdulaziz, may Allah preserve him, and the Crown Prince, HRH Prince Mohamed bin Salman, may Allah preserve him. The Exhibition seeks to highlight the message of Islam which promotes justice, peace, mercy, tolerance, coexistence and moderation, based on the Holy Quran, the Noble Sunnah and the long-standing Islamic history. The Exhibition employs advanced technology to give visitors a real-life experience of the Seerah and historical events. The Exhibition is considered an international and civilizational landmark which was visited by kings, leaders and scholars and was commended by preachers and more than a thousand specialized experts.