ICESCO Director-General receives Egyptian Ambassador in Rabat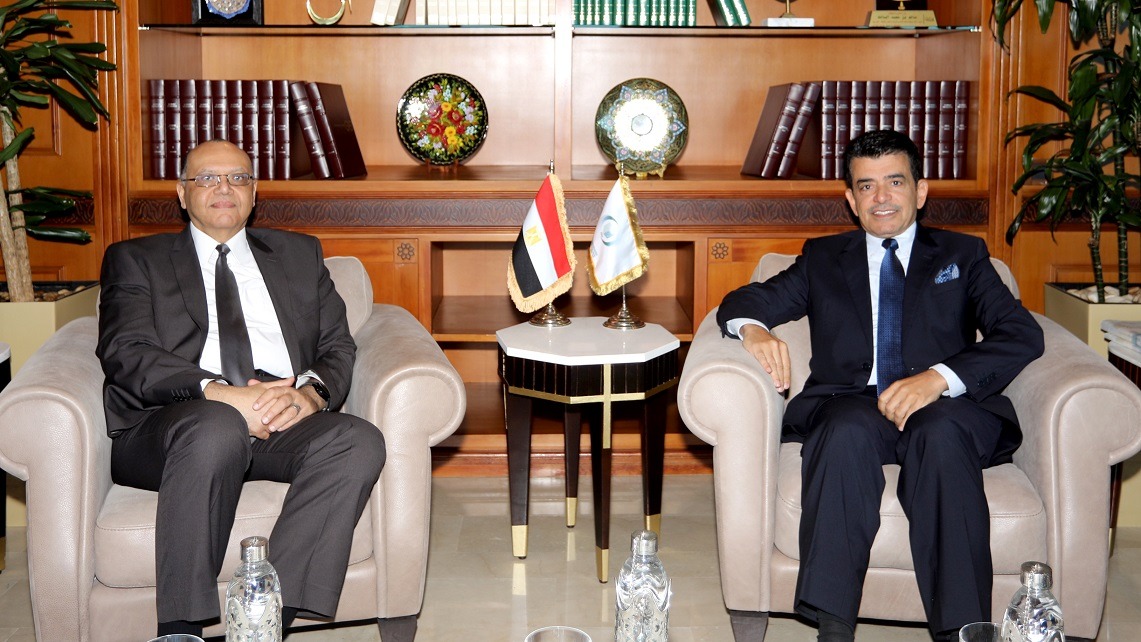 17 February 2022
Dr. Salim M. AlMalik, Director-General of the Islamic World Educational, Scientific and Cultural Organization (ICESCO), received today (Thursday, February 17th, 2022) at ICESCO headquarters in Rabat, Ambassador Yasser Mostafa Othman, Ambassador of the Arab Republic of Egypt to the Kingdom of Morocco, and discussed ways and means of strengthening the outstanding cooperation relations between ICESCO and Egypt in the fields of education, science and culture.
At the beginning of the meeting, Dr. AlMalik reiterated his thanks to H.E. President Abdel Fattah El-Sissi for sponsoring and inaugurating ICESCO's 14th General Conference, hosted by Egypt on 8-9 December 2021, and for his initiative to grant 100 scholarships to students from the Islamic world in Egyptian universities. He also thanked the Egyptian government, represented by Dr. Khaled Abdel Ghaffar, Minister of Higher Education and Scientific Research, Chairman of the Egyptian National Commission for Education, Science and Culture, as well as all the officials of the Commission, for the good organization of ICESCO's Executive Council and General Conference in Cairo, and for the generous hospitality extended to the delegations participating in these two events.
The Director-General also congratulated Egypt's Ambassador on the beginning of his mandate in the Kingdom of Morocco, wishing him every success.
Dr. AlMalik reviewed the main programs implemented by the Organization, within the framework of its new vision and strategic orientations based on openness and cooperation with all stakeholders for the benefit of Member States and Muslim communities worldwide. He underscored ICESCO's interest in promoting the culture of foresight, promoting the values of peace, civilizational dialogue and coexistence, and strengthening the capacities of women and youth. He also urged Member States to invest in space sciences and sustain the efforts geared to benefit from the capabilities offered by modern technologies and artificial intelligence applications, with a view to achieving sustainable development.
The meeting touched also upon the main cooperation programmes between ICESCO and Egypt in the Organization's fields of action, notably the celebration of Cairo as the Culture Capital in the Islamic World for 2022, which was postponed in 2020 due to the COVID-19 pandemic. Cairo's celebration this year coincides with the celebration of the Moroccan capital Rabat as Culture Capital, and is part of the development of ICESCO's program of Culture Capitals in the Islamic World, which offers opportunities for exchange and organization of joint activities between the two capitals.
For his part, the Egyptian Ambassador affirmed his country's strong support for ICESCO and its Director-General, in recognition of the pioneering role played by the Organization in presenting the correct image of Islam, which reflects the greatness and evolution of this noble religion, particularly through science, culture, arts and literature. He also stressed the desire of the Egyptian government to maintain constructive cooperation with ICESCO.