ICESCO Director-General receives Ambassador of Jordan to Rabat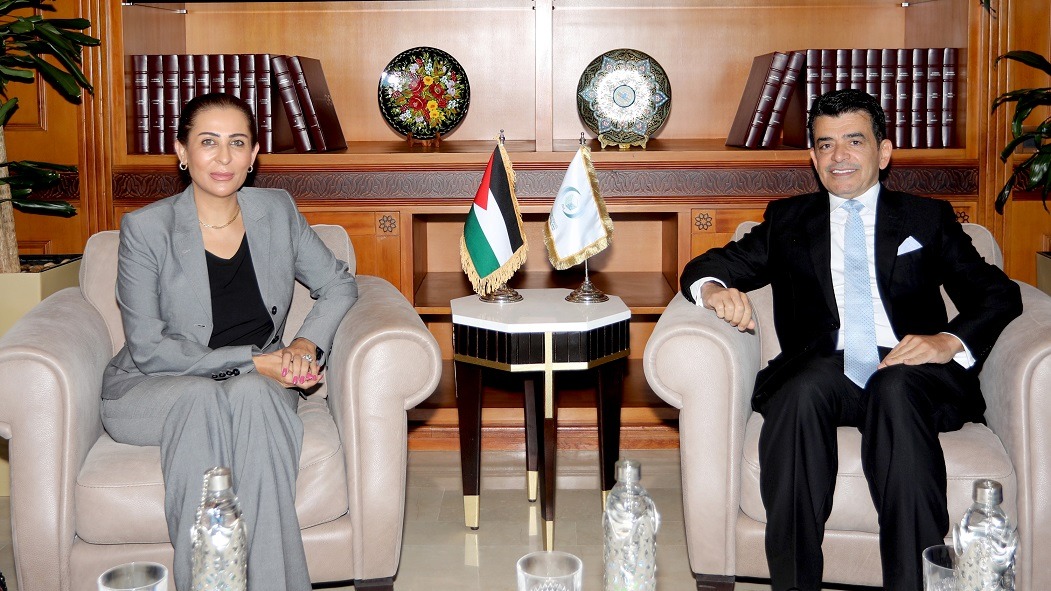 15 February 2022
Dr. Salim M. AlMalik, Director-General of the Islamic World Educational, Scientific and Cultural Organization (ICESCO), received Ms. Jumana Suleiman Ghunaimat, Ambassador of the Hashemite Kingdom of Jordan to the Kingdom of Morocco. The meeting discussed ways to enhance cooperation between ICESCO and Jordan in the educational, scientific and cultural fields.
At the outset of the meeting, held on Tuesday (February 15, 2022), at ICESCO headquarters, in Rabat, Dr. AlMalik congratulated Ms. Ghunaimat on assuming her functions as Jordan's Ambassador to the Kingdom of Morocco, wishing her every success.
He reviewed ICESCO's major programs as part of its new vision and strategic orientations, which are based on openness and cooperation with all parties to serve the Member States and Muslim communities around the world, highlighting ICESCO's interest in promoting the culture of foresight, consolidating the values ​​of peace, civilizational dialogue and coexistence, building capacities of women and youth, and urged the Member States to invest in space sciences and benefit from modern technologies and artificial intelligence applications for achieving sustainable development.
For her part, Ms. Ghunaimat commended ICESCO's roles in supporting its Member States in the Organization's areas of action, stressing the keenness of the Hashemite Kingdom of Jordan to continue constructive cooperation with ICESCO.
The meeting also brought together Dr. Mohammed Zine El Abidine, Head of Culture and Communication Sector; Ms. Ramata Almami Mbaye, Head of Human and Social Sciences Sector; and Ambassador Khaled Fathalrahman, Director of the Center for Civilizational Dialogue.