ICESCO Takes Part in Symposium on Role of Cultural Institutions During Cairo International Book Fair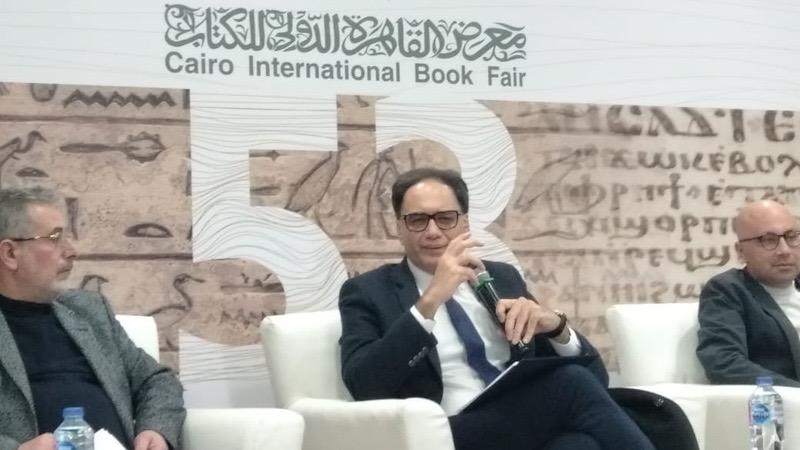 1 February 2022
The Culture and Communication Sector at the Islamic World Educational, Scientific and Cultural Organization (ICESCO) took part in an international symposium on the role of cultural institutions in promoting culture. The symposium was organized by the Ministry of Culture of Egypt and the Egyptian General Book Organization within the framework of the 53rd edition of Cairo International Book Fair held under the theme "Egypt's Identity: Culture and the Question of the Future."
The symposium took place on Monday, January 31, 2022, in Cairo. Dr. Mohamed Zine El Abidine, Head of the Culture and Communication Sector, represented ICESCO and spoke about "The New Awareness of Cultural Issues in Development Policies… A Pressing Need," emphasizing the new roles that culture has assumed in the world. He discussed ICESCO's role under its new vision and action strategy for the period 2021-2024 to support Member States' efforts to shape their cultural development policies and build capacities. The Organization assists its Member States in conducting scientific and methodological studies to leverage cultural investments, both public and private. It also supervises civil society initiatives in its Member States to enhance youth employability and provides the needed material and human resources for cultural action.
Dr. Zine El Abidine reviewed ICESCO's initiatives that are aimed at strengthening and promoting cultural rights in the countries of the Islamic world, namely the right to take part in cultural life and the author's rights. He also cast light on initiatives that are geared towards digital innovation in creative industries, social and cultural economies, heritage tourism, and craft industries.
He pointed out that ICESCO places culture and heritage at the heart of its forward-looking strategies through its "Roads to the Future" Program. "The Organization is keen on inscribing and valorizing heritage in the Islamic world through the Islamic World Heritage Center, which is a cultural structure in charge of preserving the Islamic world's tangible and intangible heritage, cultural elements and living human treasures. The Center seeks to valorize the Islamic world's civilizational components, historical memory, identity and diversity," added Dr. Zine El Abidine.
It is worth noting that ICESCO celebrates Cairo as the Culture Capital in the Islamic World for 2022 that will bring together intellectuals, creators and artists. As part of the celebration program, ICESCO will organize several cultural activities, in cooperation with competent authorities in Egypt.