Exploring Avenues for cooperation between ICESCO, Kuwait University and the FUIW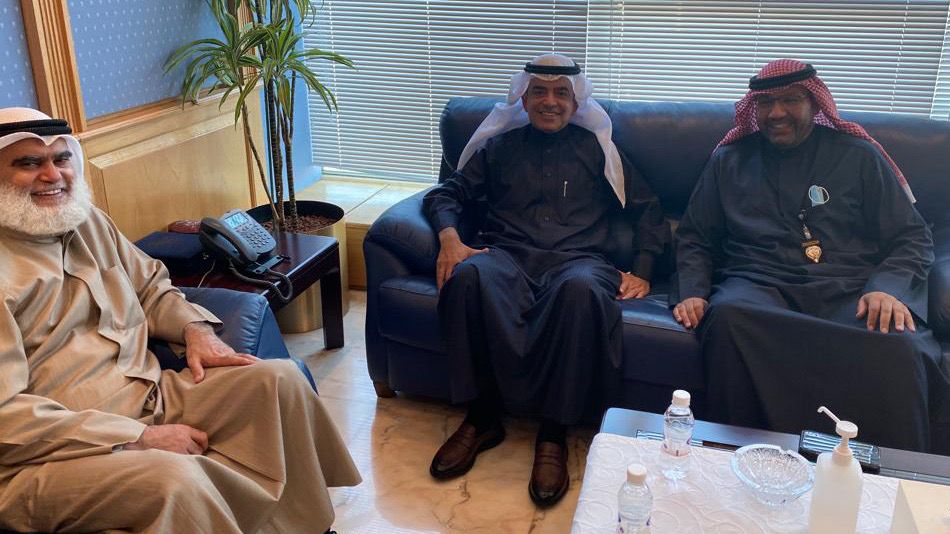 13 January 2022
Dr. Salim AlMalik, Director-General (DG) of the Islamic World Educational, Scientific and Cultural Organization (ICESCO), and Dr. Bader Al-Badawi, Acting Rector of Kuwait University, explored avenues for cooperation between the university, ICESCO and the Federation of the Universities of the Islamic World (FUIW) mainly in the field of supporting academic chairs and granting scholarships in coordination with Kuwaiti National Commission for Education, Science and Culture.
During the meeting, held on Wednesday, January 12, 2022, at the University's headquarters in Kuwait, with the presence of Dr. Ali Al-Yaqoub, Undersecretary of the Kuwaiti Ministry of Education, and Dr. Mardi Al-Ayyash, Secretary-General and the official spokesperson for Kuwait University, Dr. AlMalik reviewed the Organization's new vision and action strategy, attributing great significance to promoting cooperation with universities to contribute to achieving sustainable development.
Dr. AlMalik referred to ICESCO's scientific chairs in the fields of culture and arts that the Organization established in several universities inside and outside the Islamic world, underscoring the possibility of supporting the establishment of a research chair at Kuwait University and several other chairs in the universities in the Islamic world in partnership with the University.
The meeting touched upon proposals for cooperation between ICESCO and FUIW in the field of scholarships as the State of Kuwait grants scholarships to students of the Islamic world in its universities, as well as cooperation in holding training sessions within Kuwait University, and networking and connecting the universities of the Islamic world mainly in the field of scientific and academic research.
The two parties also explored proposal for cooperation in the field of enabling many universities in the Islamic world to occupy advanced positions in international rankings, cooperation in supporting young people and girls through entrepreneurship and the development of AI applications, which have unlimited capabilities to stimulate development as well as joint action to emphasize the importance of investing in space sciences and allowing universities to allocate important facilities for these sciences as they are the sciences of the future.
Dr. Al-Badawi commended ICESCO's cooperation with universities, noting Kuwait University's eagerness to build a fruitful partnership with the Organization and the Federation.