ICESCO and Coursera Sign Agreement to Cooperate in Digital Learning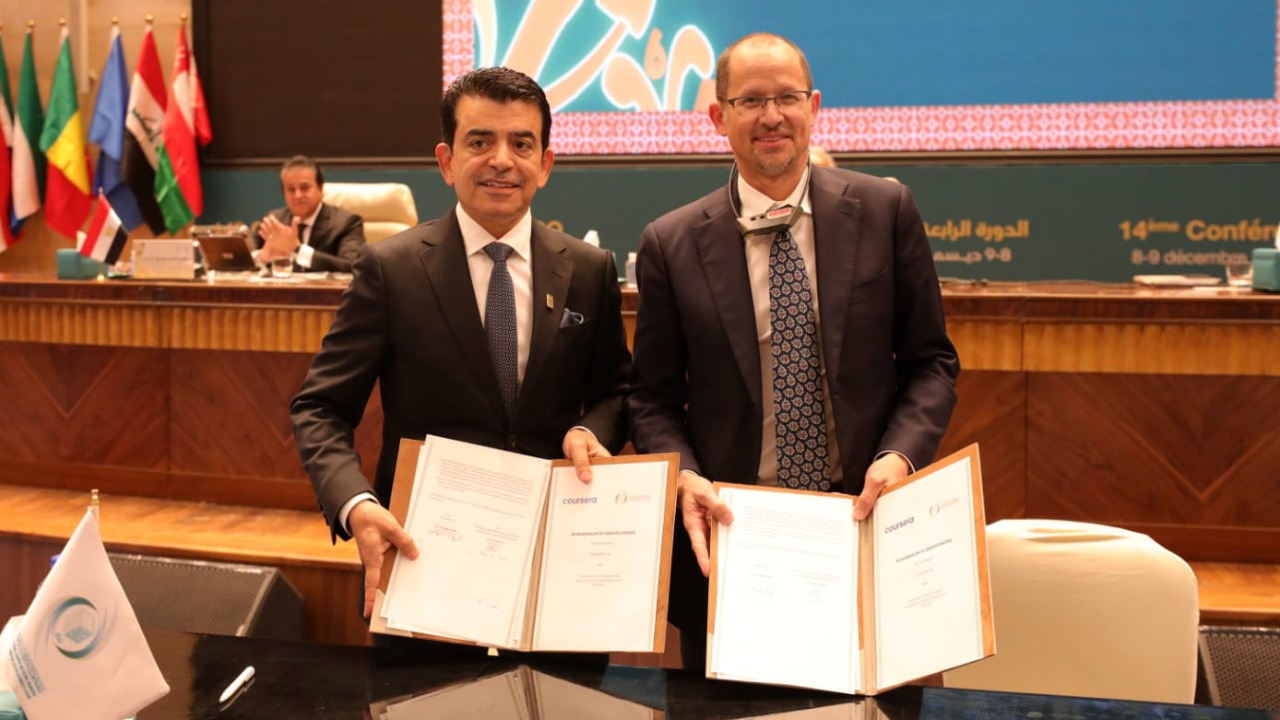 9 December 2021
Islamic World Educational, Scientific and Cultural Organization (ICESCO) and Coursera, Inc. signed a Memorandum of Understanding (MoU) to help learners across the countries of the Islamic World develop high-demand digital skills at scale. ICESCO and Coursera plan to launch the Future Pioneers Project, in January 2022, to provide selected access to world-class online learning and the Future Skills Learning Programme to upskill ICESCO's leadership team.
Dr. Salim AlMalik, ICESCO Director-General (DG), and Jeff Maggioncalda, CEO at Coursera, signed the MoU on the sidelines of the 14th Session of the ICESCO General Conference held on December 8 and 9, 2021 in Cairo, Egypt under the patronage of President Abdel Fattah El-Sisi.
"Working with Coursera will support youth and our staff in acquiring the contemporary skills they need to succeed in their future careers," said Dr. AlMalik, noting that "this partnership will provide invaluable support as ICESCO enters a new pivotal period in its history, and serves as an international beacon in the fields of education, science, culture and communication."
From his part, Jeff Maggioncalda, CEO at Coursera stated that "the accelerated adoption of online learning during the pandemic has created new opportunities to develop digital skills at unprecedented speed and scale." He also added, "We are honored to partner with ICESCO to help youth across the Islamic states develop the skills and credentials needed to advance their education and careers in the new economy."
The provisions of the MoU aim to further ICESCO's mission to assist countries of the Islamic World by nurturing tomorrow's decision-makers, sharing expertise, optimizing development policies, and building systems of innovation and knowledge. The ICESCO-Coursera initiative will equip learners from the countries of the Islamic world and ICESCO's staff with the entrepreneurial, digital, and technological skills required to drive innovation and leadership across the Islamic world and unlock the next generation of talent. Through the Coursera for Campus platform, learners will have access to more than 5,000 high-quality online courses from over 250 leading university and industry partners worldwide. Course content will also be available in English, Arabic, and French, and the pilot will run until the end of March 2022.