ICESCO Director-General Calls for Cooperation in Building Policies to Strengthen Civilizational Dialogue and Achieve Peace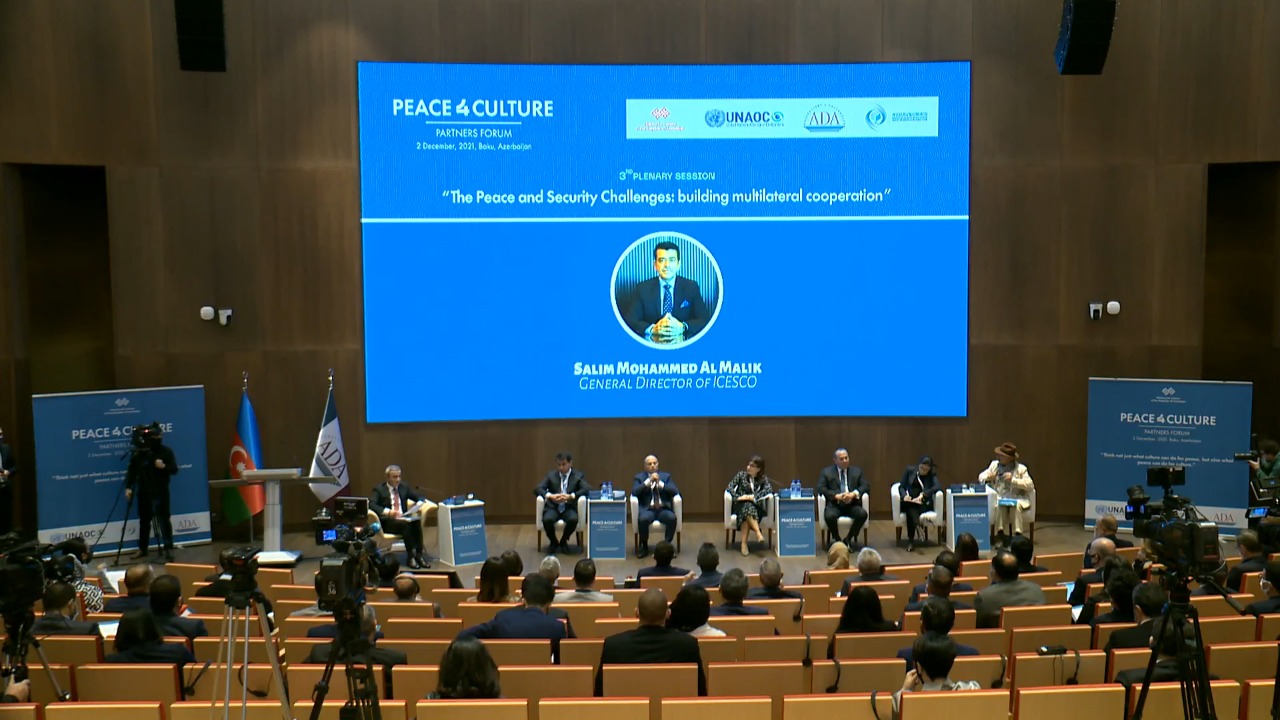 2 December 2021
Dr. Salim AlMalik, Director-General (DG) of the Islamic World Educational, Scientific and Cultural Organization (ICESCO), reaffirmed the importance of cross-border partnerships and initiatives in building policies to achieve peace and strengthen civilizational dialogue, calling for cooperation in such noble initiatives to establish holistic security, social cohesion, and sustainable development.
This statement was part of ICESCO DG's video speech addressed to the Peace4Culture Partners Forum 2021, hosted by ADA University, Baku, Azerbaijan, on Thursday, December 2, 2021, under the theme "Global Call". The Forum is held, in partnership between the University, ICESCO, the United Nations Alliance of Civilizations (UNAOC), the Ministry of Culture of Azerbaijan, as part of the activities of Baku's World Forum on Intercultural Dialogue, which aims at promoting civilizational dialogue and intensifying efforts to achieve peace among societies.
In his speech, Dr. AlMalik highlighted the crucial role of culture in providing the necessary mechanisms for preventing conflict and violence by maintaining peace and strengthening the values ​of understanding and tolerance in societies, highlighting ICESCO's efforts, its officials, partners, religious leaders, and their relentless quest for socialization, rehabilitation and training of youth and women in leadership for achieving peace and security.
ICESCO DG reviewed the Organization's key initiatives and programs aimed at spreading and promoting a culture of peace, notably the training session on "Capacity-Building in Peace Education and the Socio-economic Empowerment of Women," held in partnership with ICESCO Regional Center for Education on the Culture of Peace (CRECP), in Yamoussoukro, Côte d'Ivoire, ICESCO's training program for Women and Youth in Leadership for Peace and Security for 2021, where 30 young leaders, including 17 women and 13 men from 24 countries, who have officially become ICESCO Peace Ambassadors to contribute to leading their societies towards peace in the future and ICESCO's book on "Peace 360," which includes policymakers, experts and leaders' visions, perspective, experiences and ideas on a culture of peace.
ICESCO DG concluded his speech by confirming the Organization's eagerness and commitment to working closely with all partners to achieve a sustainable climate of peace and security.