Experience-sharing Workshop on Project of ICESCO and Alwaleed Philanthropies to Counter Repercussions of COVID-19 Pandemic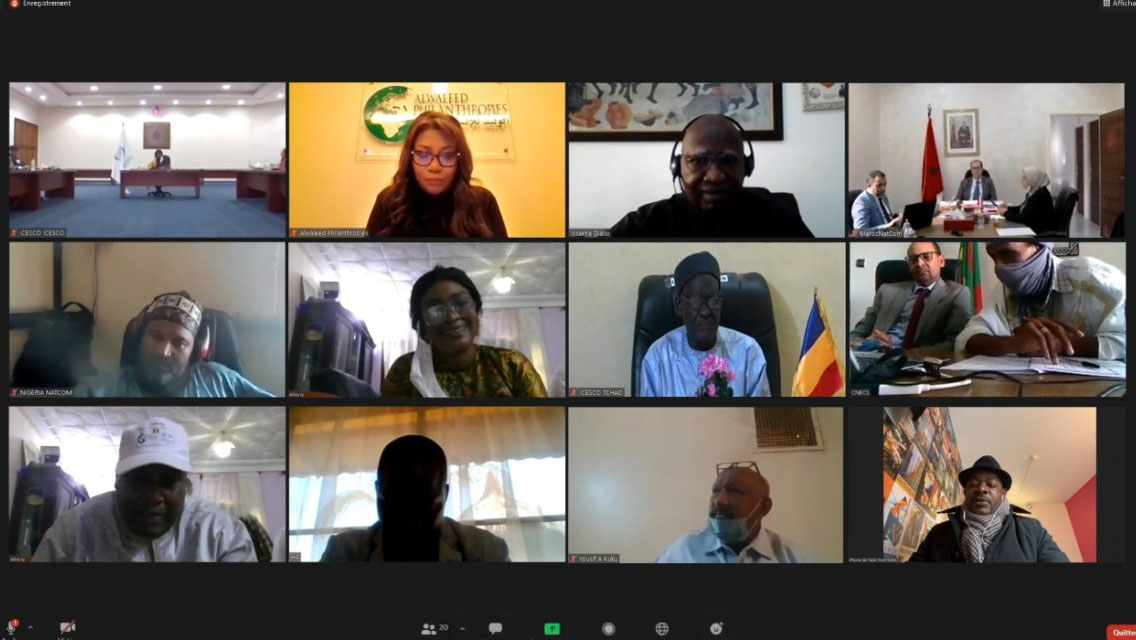 29 November 2021
The Social and Human Sciences Sector of the Islamic World Educational, Scientific and Cultural Organization (ICESCO) held a workshop to exchange experiences learned from the project, implemented in partnership with Alwaleed Philanthropies in 10 African countries, to counter the negative effects of Covid-19 by supporting innovation and promoting entrepreneurship among women and young people.
The workshop, which was held on Thursday, November 25, 2021, both at ICESCO headquarters, in Rabat, and via videoconference, aimed to exchange experiences about the project and determine the extent of achievement of its objectives while highlighting the factors contributing to their accomplishment and the lessons learned, and exploring ways to expand the scope of the beneficiary countries and ensuring its continuity.
In his address at the opening of the workshop, delivered on his behalf by Ambassador Khaled Fath Al-Rahman, Director of ICESCO Center for Civilizational Dialogue, Supervisor of Partnerships and International Cooperation Sector, Dr. Salim Al-Malik, ICESCO Director-General, thanked Alwaleed Philanthropies, hoping that this program has strengthened cooperation as ICESCO is convinced that the African countries can overcome the pandemic only through the rehabilitation of women, youth and vulnerable groups, stressing that the beneficiary countries were able to produce the specified quantities of sanitizers, prevention materials and protective masks to face the repercussions of the pandemic.
For her part, Ms. Abeer Al Fouti, Executive Manager of Global Initiatives at Alwaleed Philanthropies, praised the efforts of ICESCO and the National Commissions concerned throughout all the phases of the project, stressing that Alwaleed Philanthropies supports initiatives aimed at improving the conditions of vulnerable groups in a sustainable manner.
Ms. Ramata Almami Mbaye, Head of Social and Human Sciences Sector at ICESCO, reviewed the phases of the project, expressing her thanks to Alwaleed Philanthropies and commending the cooperation of the National Commissions as well as the beneficiary women and youth associations in implementing the set strategy. She also stated that the project has strengthened cooperation and coordination between ICESCO and the authorities concerned in the beneficiary countries towards achieving sustainable development through a holistic approach.
The representatives of the National Commissions of the beneficiary countries provided information on the outcomes of the beneficiary projects, the selection criteria of the beneficiary associations, commending the leading governance model adopted to support innovation and entrepreneurship for youth and women. They also addressed the difficulties, which faced various projects, the adopted strategies and the mechanisms for replicating successful experiences.