ICESCO Congratulates UNESCO and Participates in Celebration of its 75th Anniversary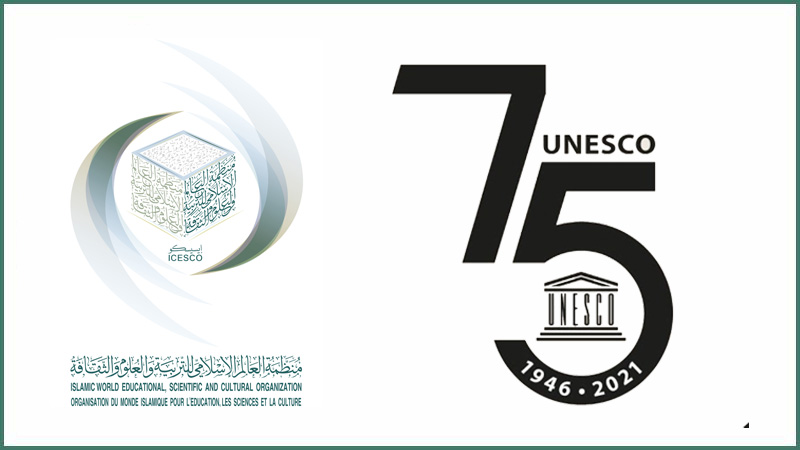 12 November 2021
The Islamic World Educational, Scientific and Cultural Organization (ICESCO) extends its sincere congratulations to the United Nations Educational, Scientific and Cultural Organization (UNESCO) on its 75th anniversary, and commends the pioneering roles UNESCO has fulfilled over these years in contributing to the establishment of peace and security, guaranteeing human rights, and enshrining the basic principles of freedom by promoting cooperation between all countries worldwide in the fields of education, science and culture.
Dr. Salim M. AlMalik, ICESCO Director-General, who participates today, November 12, 2021, in UNESCO's celebration of its 75th anniversary, stressed ICESCO's willingness to continue the existing cooperation between the two organizations, based on their agreement signed on November 19, 2019. The agreement has pushed cooperation between ICESCO and UNESCO into a new stage of joint action for the benefit of their Member States in capacity-building, development and technical assistance programs, particularly in the areas of education for girls and women, artificial intelligence, the Management of Social Transformations (MOST) Program, natural resources and water, and the preservation of cultural heritage in the Islamic world and Africa.
Today, UNESCO organizes a special ceremony on its 75th anniversary, in Paris, with the participation of many heads of state and government, and ministers via pre-recorded speeches, and in the presence of a group of international figures and artists, as well as other participants via videoconference.