ICESCO Takes Part in the Conference of General Union of Arab Archaeologists in Cairo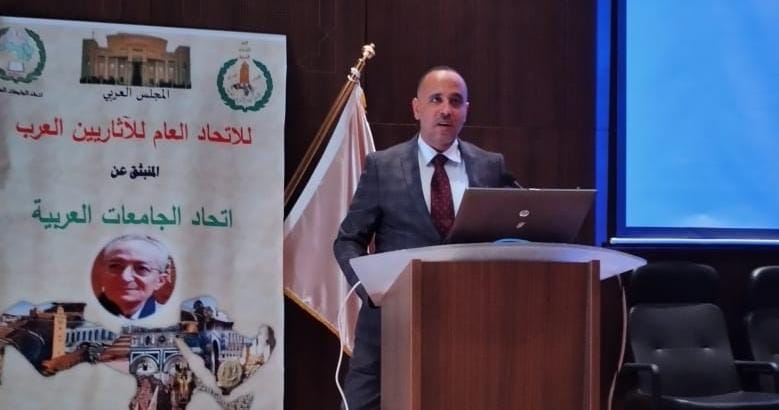 6 November 2021
The Sector of Culture and Communication at the Islamic World Educational, Scientific and Cultural Organization (ICESCO) took part in the 24th conference of the General Union of Arab Archaeologists in Cairo that kicked off today, Saturday, November 6, 2021, at the Union's headquarters in Sheikh Zayed, Cairo, and concludes its proceedings tomorrow.
In his address, Dr. Osama Elnahas, Heritage Expert at the Sector, reviewed the Organization's efforts in conserving the Islamic world's cultural heritage in all its diverse forms and specificities, as well as its vision that is in line with considerable technological advances in the world. He noted that this vision generated an action strategy that is constantly adapted to rapid global changes in all fields, particularly in the field of artificial intelligence, and that ICESCO uses these technologies in its newly established Heritage Center.
The ICESCO representative added that during the Covid-19 pandemic, the Organization held multiple specialized sessions in distinct fields of tangible, intangible and underwater cultural heritage, and a training session on combating illicit trafficking of cultural property in Libya, explaining that ICESCO Culture and Communication Sector is planning to hold a series of training sessions on the use of underwater archaeological excavation techniques, and the protection and management of underwater cultural heritage.
Dr. Elnahas added that the ICESCO established an action plan to prepare and publish scientific encyclopedias, atlases and specialized studies in the field of cultural heritage, the launch of which was marked by the initiation of work on the Encyclopedia of the Tangible Heritage of the Prophet Muhammad (PBUH) and the Atlas of Marine and Underwater Cultural Heritage in the Islamic World, as well as a study on the role of cultural heritage in achieving the Sustainable Development Goals (SDGs).
The Expert commended the role of the General Union of Arab Archaeologists in protecting cultural heritage in the Arab world and called for enhanced cooperation between the Union and ICESCO through the cooperation agreement signed between the two sides to bring impetus to cultural heritage protection efforts in the Islamic world.