This Thursday, ICESCO to launch International Think Tank for Thought, Letters and Arts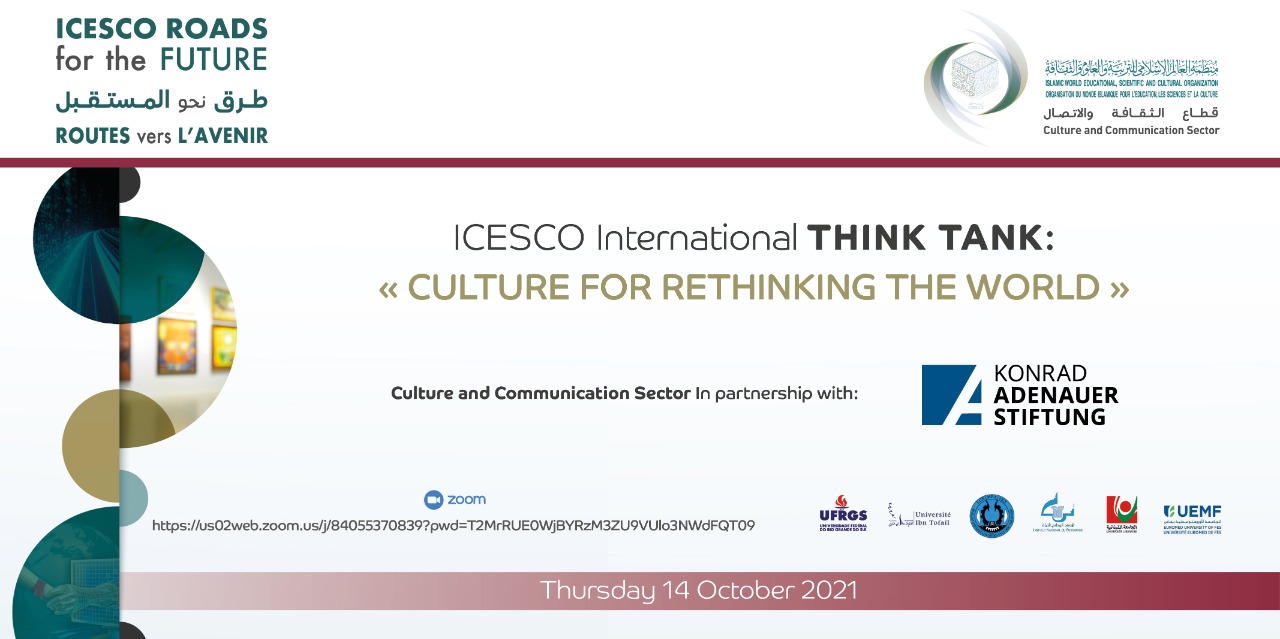 12 October 2021
The Islamic World Educational, Scientific and Cultural Organization (ICESCO), will launch ICESCO International Think Tank for Thought, Letters and Arts, under the theme, "Culture for Rethinking the World." The Think Tank will be launched on Thursday, October 14, 2021, with high-caliber participation including several ministers, university presidents, professors and specialists in the field.
The launch ceremony will kick off at 09:00 UTC (10:00 Rabat Time), face-to-face at ICESCO headquarters and via videoconference. The event is part of the year-long ICESCO International Open Days, which will be hosted by a number of universities, research centers and cultural institutions in several countries.
The launch aims to publicize the Think Tank, which operates in cooperation with 100 intellectual and university professors who are to publish their papers via the Think-Tank's ICESCO-Agora Digital Platform in five languages, namely Arabic, English, French, Spanish, and German. The platform is an international open-source digital platform that brings together a host of scientists, researchers, and intellectuals from the East, West, Asia, and Africa. It has so far published 58 articles and 36 books.
The Think Tank aims to promote the work of many digital platforms as part of "ICESCO Roads for the Future Project," establish contact between intellectuals across the globe and focus on culture and science as a knowledge pillar and a steppingstone for understanding the current political, educational, social and economic phenomena. It also seeks to render culture and knowledge a key lever for humans in light of the unfolding digital transformation and embrace a new cultural and creative approach likely to ensure linguistic and intellectual diversity.
The opening sessions will kick off with the address of Dr. Salim M. AlMalik, ICESCO Director-General, and will saw the participation of Dr. Inas Abdel Dayem; Minister of Culture of Egypt; Sheikha Mai Al Khalifa, President of Bahrain Authority for Culture and Antiquities; Dr. Youma Fall, Minister Advisor to the President of Senegal; Mr. Michel Menga M'Essone, Minister of Culture and Arts of Gabon; and Dr. Mohammed Zarrou, Dean of the Faculty of Languages, Letters and Arts, Ibn Tofail University, Kenitra, Morocco.
The opening session will be broadcasted live on ICESCO's official Facebook page, via the link: