President of Gabonese Republic Receives ICESCO Director-General at Presidential Palace in Libreville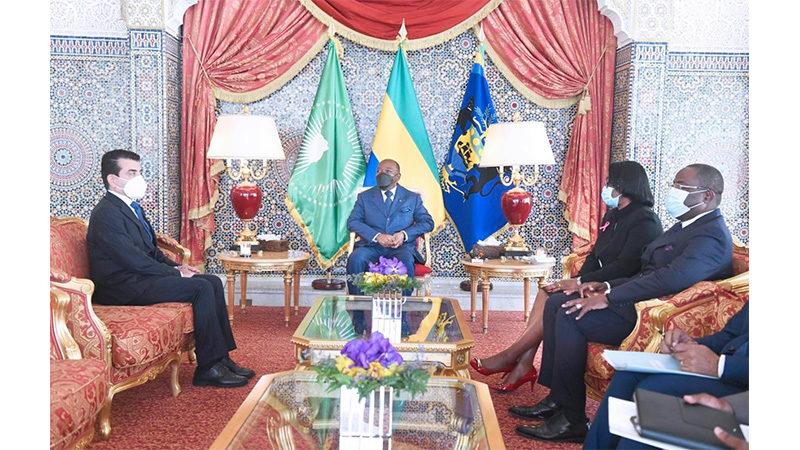 7 October 2021
His Excellency Mr. Ali Bongo, President of the Gabonese Republic received Dr. Salim M. AlMalik, Director-General (DG) of the Islamic World Educational, Scientific and Cultural Organization (ICESCO), on Wednesday, October 6, 2021, at the Presidential Palace in Libreville, in the presence of the Prime Minister, the Minister of Education, the Chief of Cabinet, and several advisors in the Presidential Cabinet.
At the outset of the meeting, the Gabonese President welcomed ICESCO DG, commending the Organization's keenness to build fruitful cooperation with the Gabonese Republic in its fields of competence as part of the Organization's development and modernization.
During the meeting, Dr. AlMalik highlighted the main programs and activities of the Organization in light of its new vision and strategy underpinned by greater communication with the Member States to identify their priorities and needs and devise programmes and implementation plans accordingly.
The DG noted that ICESCO launched and implemented various initiatives and programmes to support its Member States in facing the negative reverberations of the Covid-19 pandemic, particularly in the African countries which receive special priority.
Dr. AlMalik then briefed the Gabonese President on the areas of cooperation between ICESCO and Gabon, which were explored during his meetings with the Prime Minister and other Gabonese ministers, as well as the programmes aimed at young people, girls and vulnerable groups.
The meeting also touched upon multiple cooperation proposals, such as the organization of Member States' First Ladies Conference on Gender Equality and Women Empowerment, jointly between ICESCO, the Gabonese Ministry of Social Affairs, and Silvia Bongo Foundation, which is chaired by the First Lady of Gabon.
The meeting also reviewed multiple initiatives, including the establishment of an Arabic language teaching center in the Gabonese Republic, and the implementation of a training program for Gabonese Imams, in cooperation with the Gabonese Supreme Council for Islamic Affairs, and ICESCO's partners, most notably the Muslim World League and Mohammadia League of Scholars.
The meeting was the culmination of the DG's official visit to the Gabonese Republic, during which he met with senior officials and agreed upon developing cooperation ties between ICESCO and the Gabonese Republic in different fields through the joint implementation of practical programs and activities with the Gabonese competent parties.