New Prospects for Cooperation between ICESCO and Gabon in Culture and Heritage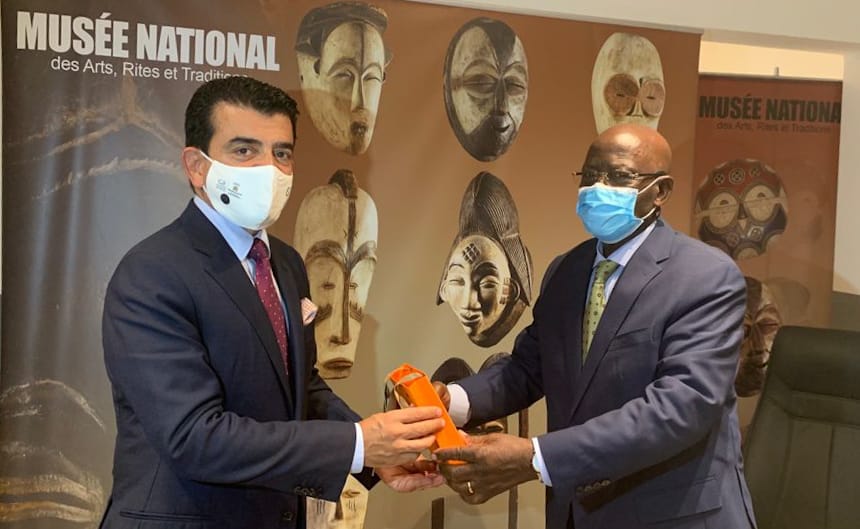 6 October 2021
Dr. Salim M. AlMalik, Director-General (DG) of the Islamic World Educational, Scientific and Cultural Organization (ICESCO), and Mr. Michel Menga M'Essone, Minister of Culture and Arts in Gabon, explored prospects for cooperation between ICESCO and Gabon in the field of culture and heritage.
The meeting held on Tuesday, October 5, 2021, at the National Museum in Libreville, capital of Gabon, is part of the official visit of ICESCO DG to Gabon to explore ways to promote cooperation between the Organization and Gabon in the next period.
At the outset, Dr. AlMalik highlighted the major activities and programs that ICESCO carries out in the cultural field and addressed the Organization's efforts to safeguard heritage in cooperation with the countries of the Islamic world. He added that the Islamic World Heritage Committee exerts serious efforts to inscribe historic sites and heritage elements on the Islamic World Heritage List, inviting Gabon to submit its nomination files for the countries' tangible and intangible heritage.
For his part, the Gabonese Minister hailed the roles the Organization plays in the cultural sector and reaffirmed the Ministry's keenness to build solid cooperation with ICESCO, describing the DG's visit as the first step towards strengthening these relations.
At the close of the meeting, the two parties agreed on a Ministry delegation's visit to ICESCO's headquarters to meet with the officials and experts of the Sector of Culture and Communication to explore the arrangements for implementing several initiatives and programs in Gabon. These include training Gabonese officials and professionals on preparing nomination files for heritage inscription, organizing workshops and symposia in Gabon under the supervision of ICESCO's experts, virtually displaying the collections of the National Museum of Gabon on "ICESCO Digital Home", and co-organizing specialized conferences and forums.
Ms. Ramata Almamy Mbaye, Director of the Sector of Social and Human Sciences, and Dr. Ahmad Said Bah, Advisor to ICESCO DG for Partnerships and International Cooperation, attended the meeting.
Following the meeting, ICESCO DG toured the National Museum of Gabon and took note of its collections, artifacts and heritage halls, especially the natural heritage of the world-renowned medicinal plants.