ICESCO and Malta Foundation for the Wellbeing of Society (MFWS) Explore Prospects for Cooperation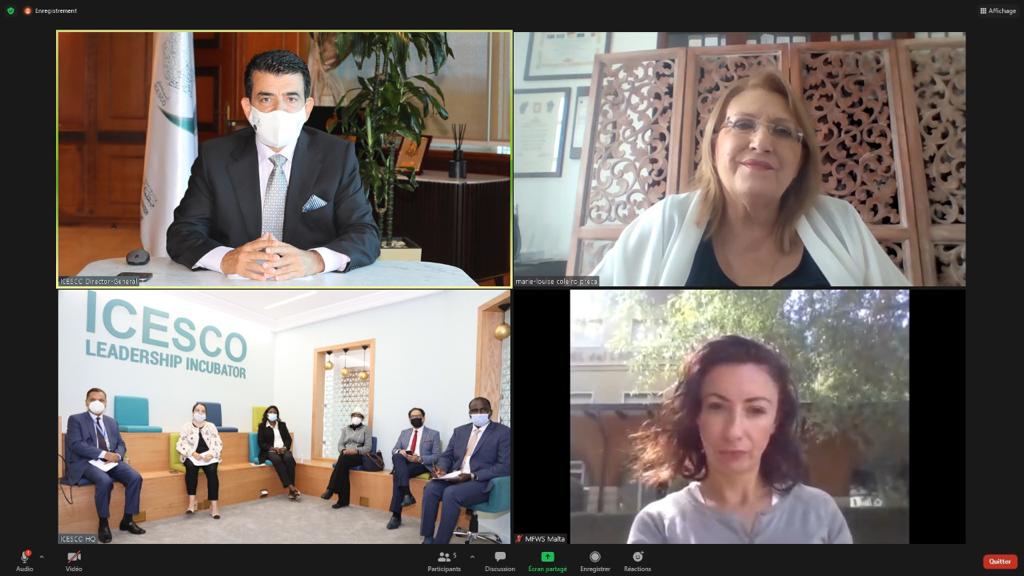 30 September 2021
Dr. Salim M. AlMalik, Director-General (DG) of the Islamic World Educational, Scientific and Cultural Organization (ICESCO), and Ms. Marie-Louise Coleiro Preca, President of Malta Foundation for the Wellbeing of Society (MFWS), former President of the Republic of Malta, discussed the prospects for cooperation between the Organization and the Foundation in the fields of education, peace, consolidation of the values ​​of coexistence, capacity building training for youth, women and children, heritage preservation and intercultural dialogue.
During the meeting, held on Wednesday, September 29, 2021, via videoconference, with the participation of ICESCO's heads of sector and experts, Dr. AlMalik reviewed ICESCO's vision, initiatives and programs, which aim at building the leadership capacities of young people and women, most notably ICESCO's Program for Leadership Training in Peace and Security for 30 young people and women from more than 20 countries, who have officially become ICESCO ambassadors for peace.
ICESCO DG indicated that the Organization adopts an open-door policy with the Member and non-Member States, as well as international organizations, bodies, and civil society institutions concerned. It also concludes partnership and cooperation agreements for the benefit of the Member States and the Muslim communities around the world.
For her part, Ms. Marie-Louise Coleiro Preca reviewed the working mechanisms and the prominent programs and projects of MFWS, particularly supporting the efforts to improve the wellbeing of children, who constitute the basis for achieving peace in societies, spreading the values ​​of tolerance and respect, and reducing conflicts around the world. Ms. Coleiro Preca also stressed the importance of ensuring the right to education for all, enhancing children's skills to build harmonious societies, and integrating the social welfare index into the national development policies of countries.
Besides, she commended ICESCO's efforts to consolidate dialogue and peace, stressing MFWS's willingness to cooperate with ICESCO given their common areas of interest in terms of projects and target groups, adding that the meeting constitutes a new start to build a constructive and fruitful partnership.
Afterward, some of ICESCO's heads of sector reviewed the programs and projects implemented in the fields of education, science and culture, and presented proposals for cooperation programs between the Organization and the Foundation. The two parties agreed to develop a partnership within the framework of this strategic vision for social welfare issues and their role in development.