New Prospects for Cooperation Between ICESCO, Azerbaijan and United Nations Alliance of Civilizations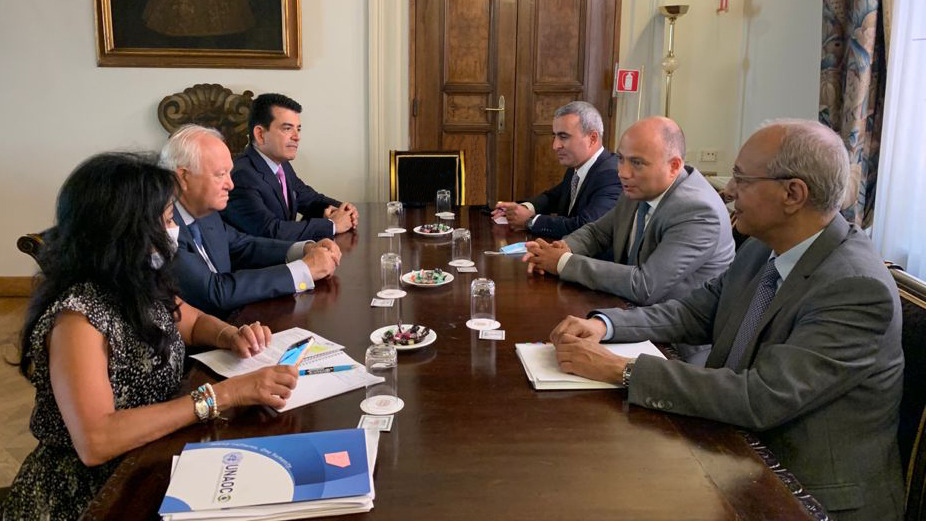 13 September 2021
The Director-General (DG) of the Islamic Educational, Scientific and Cultural Organization (ICESCO), Dr. Salim M. AlMalik, the High Representative for the United Nations Alliance of Civilizations (UNAOC), Mr. Miguel Ángel Moratinos, and the Minister of Culture of Azerbaijan, Mr. Anar Karimov, held a meeting to discuss trilateral cooperation between ICESCO, the Alliance of Civilizations, and Baku Dialogue Forum, to promote intercultural dialogue.
During the meeting, held on September 12, 2021, in the Italian city of Bologna as part of their participation in the G20 Interfaith Forum, the participants valued the roles and efforts undertaken by the three institutions to anchor the values ​​of coexistence and dialogue between different cultures, based on human commonality.
During the meeting, the participants reviewed the activities of their respective institutions to promote intercultural dialogue and agreed to cooperate in organizing joint programs and projects in this field, examine a set of initiatives for the benefit of young people and women, and promote peace and rapprochement between cultures and peoples.
Dr. Ahmed Said Bah, Advisor to ICESCO DG in charge of Partnerships and International Cooperation, Mr. Wassef Aivaz Zadeh, Secretary of the National Committee for Education, Science and Culture of the Republic of Azerbaijan, and Ms. Nihal Saad, Chief of Cabinet and Spokesperson for the High Representative for the United Nations Alliance of Civilizations (UNAOC) attended the meeting.
The opening session of G20 Interfaith Forum 2021 kicked off yesterday in Bologna, with the participation of this year's G20 chairman, the President of Slovenia, the Prime Minister of Sri Lanka, a large number of ministers, chiefs of international organizations, religious leaders, and global intellectual figures.
Dr. AlMalik will take part in the forum, as ICESCO's first participation in the global forum, today, Monday 13 September 2021, during the Education and Religious Diversity session, in which a large number of Arab and European officials and ministers will participate.
The Forum is held this year under the title "Time to Heal: Peace among Cultures, Understanding between Religions", under the auspices of the Italian Presidency. It started on September 12, and it will end on September 14, prior to the organization of the G20 Leaders' Summit. The Forum is considered one of the most important initiatives of the G20, to create a space for meeting and dialogue, not only between religious leaders, but also between political authorities, international organizations, spiritual authorities, and intellectual personalities to discuss important issues and programs.