ICESCO Director-General Receives Chargé d'Affaires of Brunei Darussalam Embassy in Rabat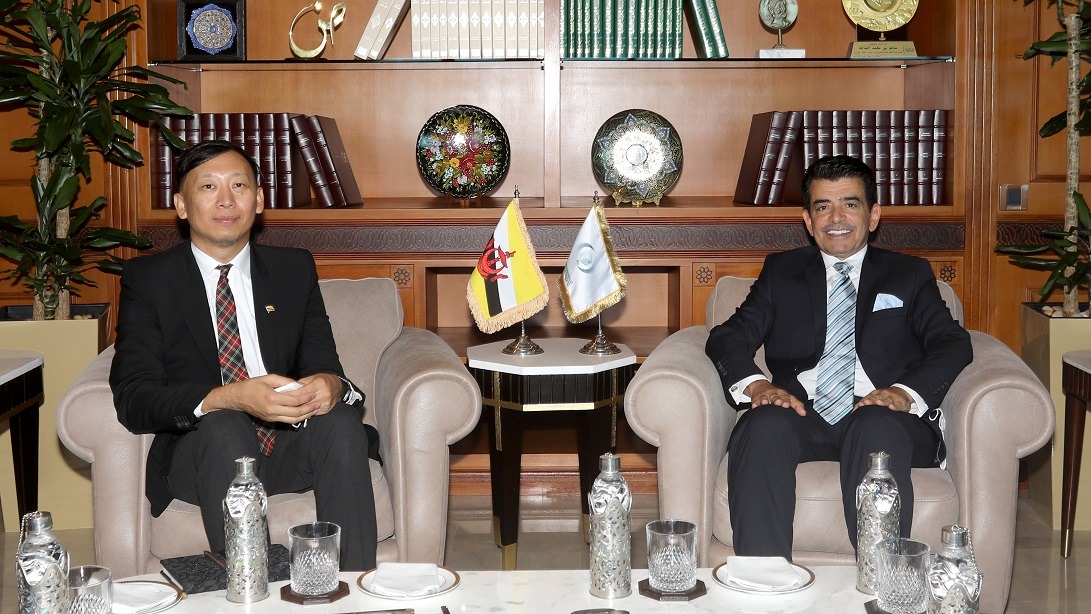 2 September 2021
The Director-General (DG) of the Islamic Educational, Scientific and Cultural Organization (ICESCO), Dr. Salim M. AlMalik received the outgoing Chargé d'Affaires of Brunei Darussalam Embassy in Rabat, Mr. Awangku Haji Shahrin bin Pengiran Haji Bakar, and the newly appointed Chargé d'Affaires of the Embassy, Ms. Dayang Nur Hafiza Islam Bint Awang Mahani. The meeting explored ways to foster cooperation between the Government of Brunei Darussalam and ICESCO in its fields of competence.
At the beginning of the meeting, held at ICESCO headquarters in Rabat, on September 1, 2021, Dr. AlMalik expressed his gratitude to the former Chargé d'Affaires of Brunei Darussalam for his efforts to build fruitful cooperation between his country and ICESCO during his tenure in Rabat, and wishing him good luck in his future assignments. He also welcomed the new Chargé d'Affairs and congratulated her on assuming this position, stressing ICESCO's constant keenness to develop relations with all Member States and support them in promoting education, science, and culture within the framework of the Organization's new vision.
ICESCO DG commended the distinguished programs and activities that were implemented in Brunei Darussalam during the celebration of Bandar Seri Begawan as the Asian region's Capital of Culture in the Islamic World for 2019.
The former Chargé d'Affaires of the Brunei Darussalam Embassy ​​commended ICESCO's role in supporting its Member States in the Organization's fields of competence. The new Chargé d'Affaires stressed her willingness to develop constructive cooperation and distinguished relations between Brunei Darussalam and ICESCO.
The meeting brought together Dr. Abdelilah Benarfa, ICESCO Deputy DG, Dr. Mohamed Zine El Abidine, Head of Culture and Communication Sector at ICESCO, and Ms. Sally Mabrouk, Director of the Office of ICESCO DG.