ICESCO and UNICEF Sign a MoU for Cooperation in Education and Rights of Children and Youth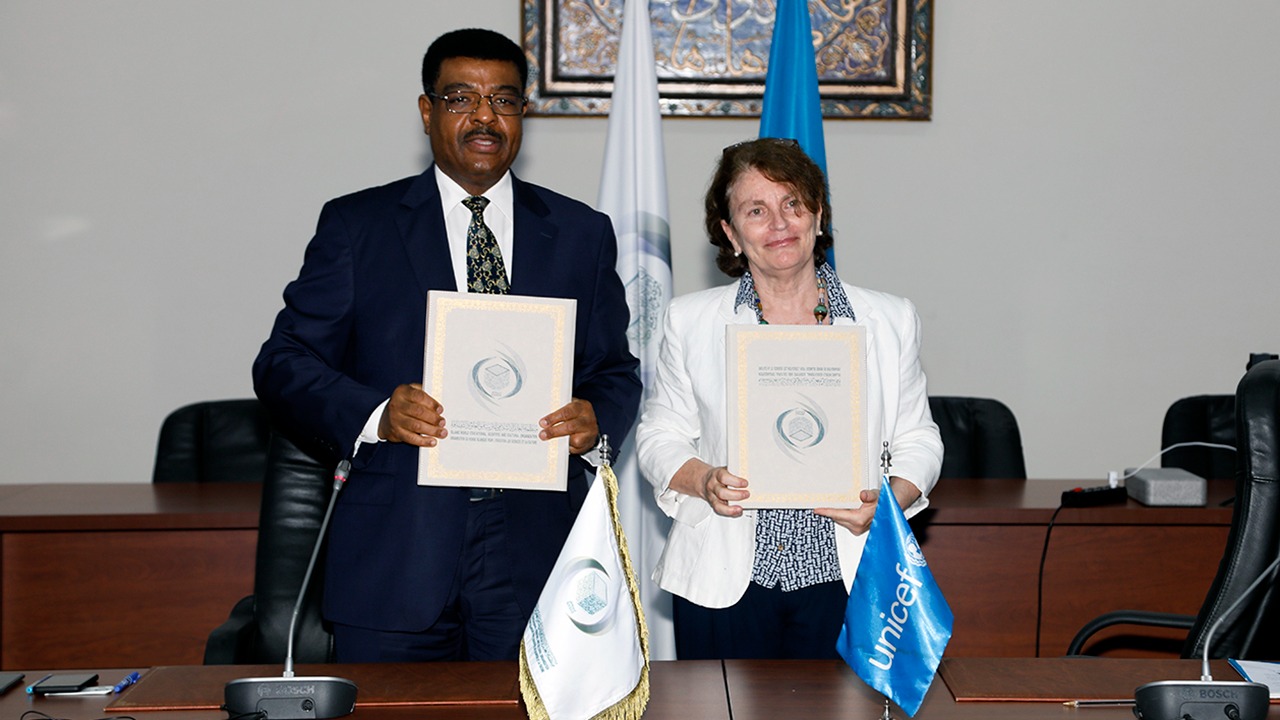 16 July 2021
The Islamic World Educational, Scientific and Cultural Organization (ICESCO) and the United Nations Children's Fund (UNICEF) signed a Memorandum of Understanding (MoU) for cooperation in the fields of education, childhood development, youth capacity building, development of training on tomorrow's professions, and artificial intelligence applications to strengthen human capital, protect the rights of children and youth, and preparing and qualifying them to face the future.
Ambassador Khalid Fathalrahman, the supervisor of the Partnerships and International Cooperation Sector at the Organization, and Ms. Giovanna Barberis, UNICEF Representative in Morocco, signed the MoU, during a ceremony organized July 15, 2021, at ICESCO headquarters in Rabat, in the presence of several directors of Sectors and Departments and advisors at ICESCO, and some UNICEF officials.
In his speech during the ceremony, Ambassador Khalid Fathalrahman stressed the importance of signing the MoU between ICESCO and UNICEF in protecting the rights of children and youth, helping them meet their needs, and upgrading their capacities to acquire the skills necessary for social and economic integration.
Ambassador Fathalrahman pointed out that ICESCO supports the countries of the Islamic world in all fields related to education, science and culture, and works to qualify women and enhance the capacities of youth through the use of artificial intelligence and strategic foresight to find adequate solutions to future challenges.
Mrs. Giovanna Barberis expressed her happiness at signing the MoU, noting that the areas of joint action of ICESCO and UNICEF will contribute to promoting the rights of children and youth in Morocco, and constitute an opportunity to share information, experiences and good practices in the fields of education, early childhood, youth, and social integration.
The MoU between ICESCO and UNICEF provides for cooperation in sharing information and knowledge on projects and programs related to education and childhood development, and the social and economic integration of youth, to benefit from the experiences and expertise of each party; cooperation in holding the Early Childhood Conference in 2022; promotion of a culture of foresight among youth to raise awareness among them about the future opportunities; launching the "Future from a Youth Perspective" campaign, and participating in organizing forums and workshops on topics of common interest.