ICESCO hosts exhibition of rare historical manuscripts on loan from Al-Qarawiyyin Library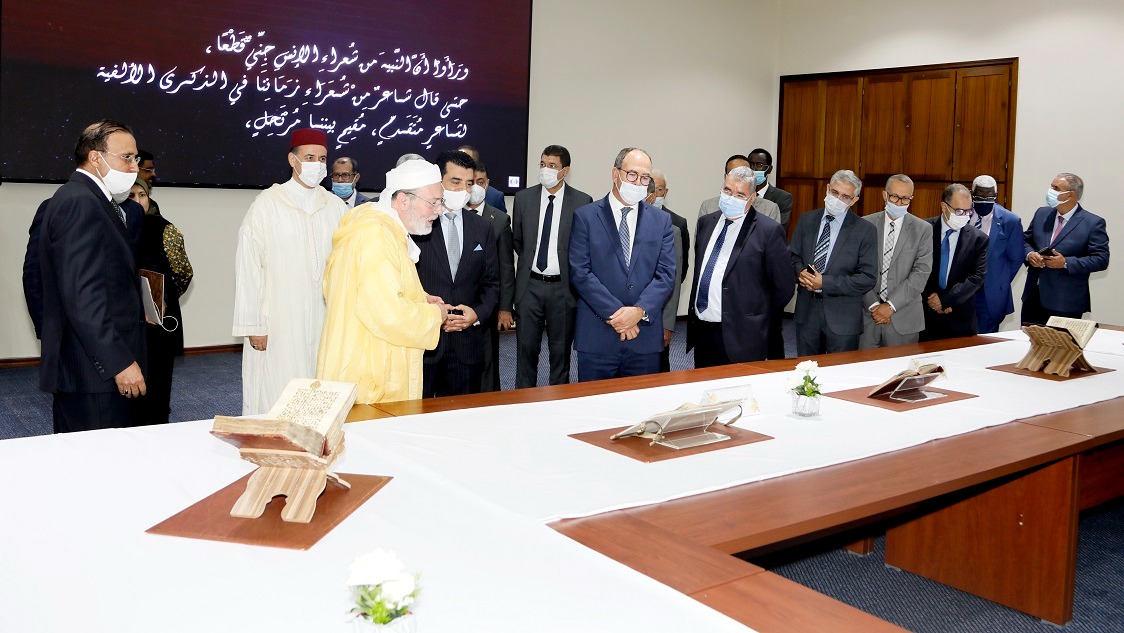 8 July 2021
In cooperation with the Ministry of Haboos and Islamic Affairs of the Kingdom of Morocco and the Library of Al-Qarawiyyin University, the Islamic World Educational, Scientific and Cultural Organization (ICESCO) is hosting, at its headquarters in Rabat, a first of its kind exhibition of rare historical manuscripts spanning various fields of knowledge and featuring a treasure trove of Al-Qarawiyyin University Library's most prized possessions.
The exhibition, which opens today, Wednesday 7 July 2021, features more than 20 rare manuscripts including a copy of the Holy Quran in the Kufi Script without dots or diacritical marks, which dates back to the third century A.H.; an Arabic version of the Gospel of Luke from the fifth century A.H.; and Kitab Az-Zohd by Abu Daoud As-Sejestani. The exhibition also displays Al-Hidaya Fi Tawhid by Al-Qadi Al-Baqalani; Al-Muwattaa by Yahya bin Mohamed bin Abbad Al-Lakhmi, which dates back to the sixth century A.H.; Al-Mukhtassar Al-Fiqhi by Abu Musaab Al-Zahri; Al-Jamiaa Al-Sahih by Muhammad bin Ibrahim; Al-Bayan Wa Tahssil by Ibn Rushd Al-Jadd, a copy made for the Sultan; Jarru Ath-Thayl Fi Ilm Al-Khayl by Jalal Dine As-Sayuti; and the Book of Ethics by Aristotle. Likewise, the exhibition includes a manuscript on astronomy that was written by Ptolemy and translated by Al-Farabi, in addition to a selection of knowledge treasures in various fields including religious sciences, astronomy, medicine, philosophy, and history authored by prominent science and intellect figures from the Islamic world and abroad.
The exhibition is open to visitors, concurrently with the ICESCO Scientific Symposium on the release of the First Volume of the Encyclopedia of Deconstructing Extremist Discourse. The Symposium was held in cooperation with the Mohammadia League of Scholars of the Kingdom of Morocco, as part of the Framework Partnership Agreement between ICESCO and the League aiming to intellectually shield the Muslim youth against the different forms of extremist and hate discourse in the Islamic world and beyond.
On the sidelines of the exhibition, a team specializing in manuscript restoration from the Manuscript Restoration Lab at Al-Qarawiyyin University will give a practical demonstration to visitors on the latest trends in manuscript restoration using advanced technology.
Al-Qarawiyyin Library in Fez is one of the oldest heritage libraries in Morocco. It was established in 750 A.H. and has been subject to numerous restoration and repair operations. The library has maintained its key role in the fields of science and knowledge, making it a reliable destination for researchers and students. Its collection has been enriched by Sultans, princes, and scholars who donated rare and invaluable books.