ICESCO and Oxford Center for Islamic Studies explore cooperation prospects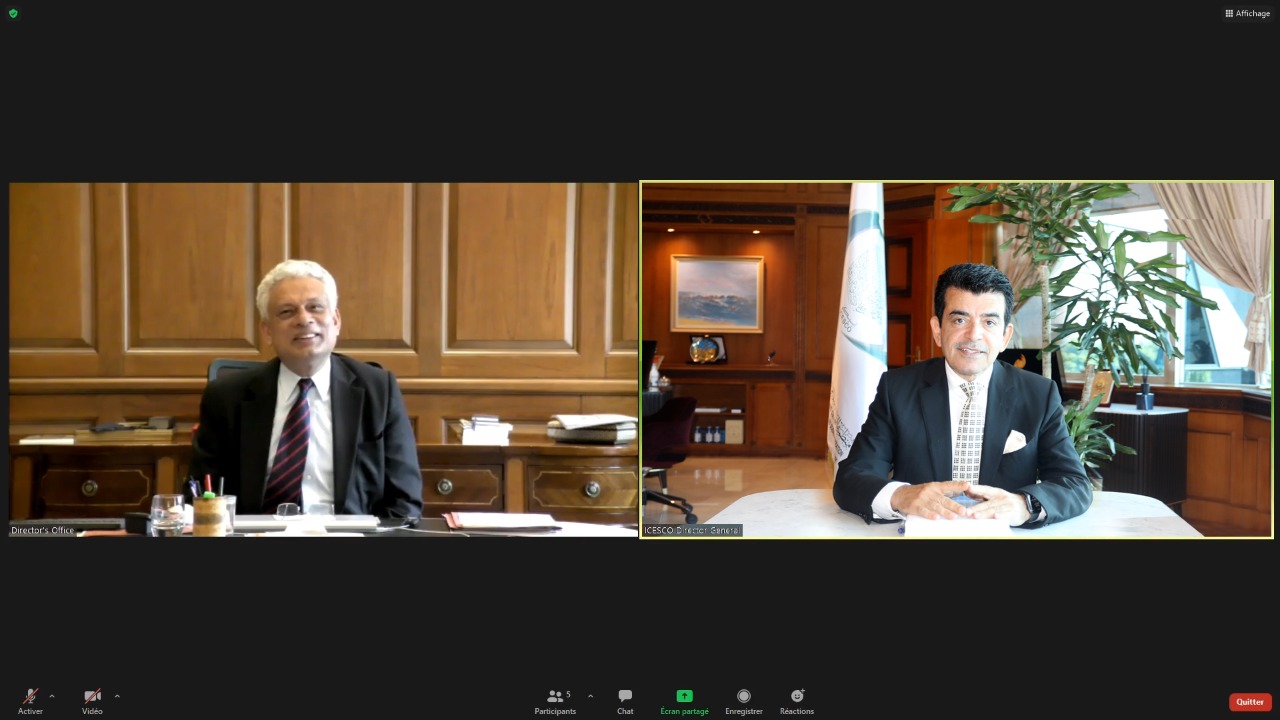 7 July 2021
Dr. Salim M. AlMalik, Director-General of the Islamic World Educational, Scientific and Cultural Organization (ICESCO), and Dr. Farhan Nizami, Director of the Oxford Center for Islamic Studies, explored the prospects of wider cooperation between the Organization and the Center, especially in the fields of building youth's capacities, scholarships, scientific research and ICESCO Academic Chairs.
During the meeting, held today, Tuesday 6 July 2021, via videoconference, the two parties expressed their keenness to promote partnership between ICESCO and the Center, reaffirming the importance of developing cooperation in the field of conducting specialized studies and implementing practical and goal-oriented programs and activities within the two institutions' shared areas of interest.
Dr. AlMalik noted that ICESCO's new vision and action strategy positions peace at the forefront of its priorities, highlighting the Organization's numerous programs in this regard including the Program of Training Young Leadership for Peace and Security. He added that ICESCO opened up to world countries, regional and international organizations, and bodies and civil society institutions by capitalizing on its Academic Chairs Program. He further explained that in addition to chairs at universities and research centers within the Islamic world, the Program provides for setting up chairs in prominent universities outside the Islamic world in countries such as Germany and Brazil.
Dr. Nizami expressed his delight to explore cooperation prospects with a major organization such as ICESCO, which enjoys great presence and outreach within the Islamic world, conveying his honor to take part in ICESCO Conference on the Civilizational Values in the Prophet's Seerah, held on 27 May 2021. He also reaffirmed that cooperation between ICESCO and the Center must keep up with the current changes and consider the values of quality and continuity in view of achieving the set goals, noting that joint action is the way to making a difference.
The meeting saw the participation of senior ICESCO officials, namely Dr. Abdelilah Benarafa, ICESCO Deputy Director-General, Ambassador Khalid Fathalrahman, Director of the Center for Civilizational Dialogue, and Dr. Said Bah, Advisor to the Director-General for Partnerships and International Cooperation.
The Oxford Center for Islamic Studies is an Oxford University-affiliated research center. It was created in 1985 under the patronage of H.R.H. Prince Charles, Prince of Wales. The Center aims to encourage Islamic studies and it is the first center in British history to specialize in this kind of study under the patronage of a member of the British Royal Family.