Next Wednesday.. Launch of the First International Encyclopedia on Deconstructing Extremist Discourse, at ICESCO Headquarters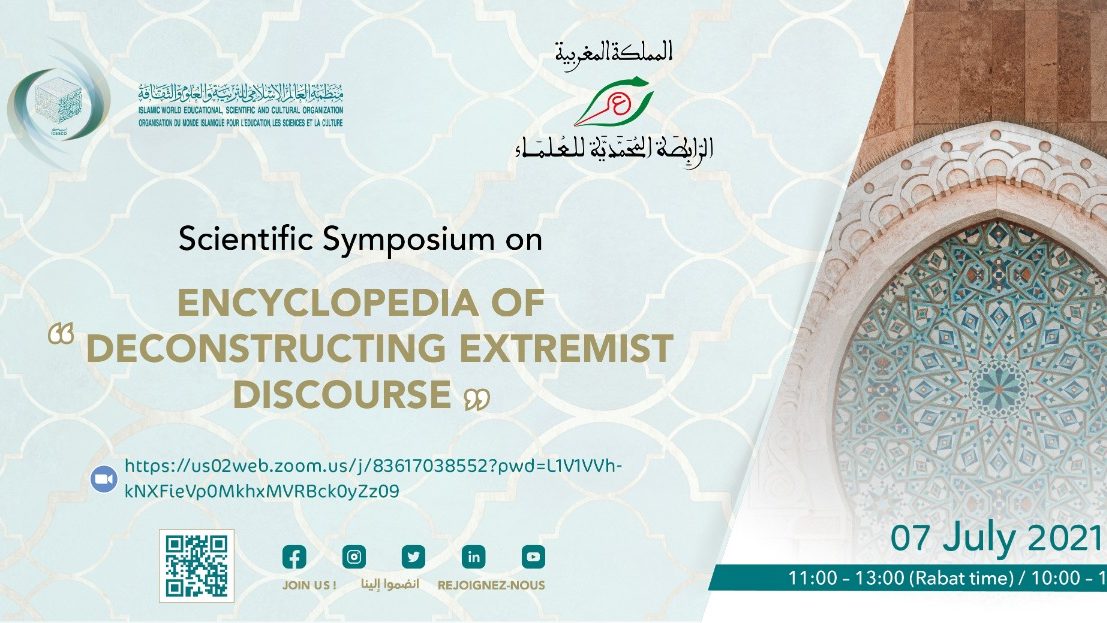 5 July 2021
The Islamic World Educational, Scientific, and Cultural Organization (ICESCO), in partnership with the Mohammadia League of Scholars, will hold a scientific symposium to introduce the first part of "the Encyclopedia on Deconstructing Extremist Discourse" which was prepared under the framework of the partnership agreement signed between the Organization and the League to protect Muslim youth against various forms of extremist discourse within and outside the Islamic World.
The Symposium, due to be held on Wednesday (7 July 2021), both at ICESCO headquarters, in Rabat, and through videoconferencing, will start at 10:00 UTC (11.00 Rabat time) with the recitation of verses from the Holy Quran, followed by a welcoming address of Dr. Salim M. AlMalik, ICESCO Director-General (DG). Afterward, Dr. Abdelilah Benarafa, ICESCO Deputy Director-General, will give a general overview of the Symposium. Dr. Ahmed Abaddi, Secretary-General of Mohammadia League of Scholars, will deliver the main lecture, which will include a definition of the encyclopedia and its characteristics and distinctive components.
The encyclopedia, the first part of which was completed, is the first scientific initiative that aims to monitor and deconstruct the various forms of zealotry and extremism in Muslim countries and highlight the aspects of misinterpretation and misuse of many religious concepts to sow division and spread a distorted image about the teachings of Islam across the world.
The first part of the encyclopedia lays out the theoretical framework for dismantling the intellectual backgrounds of extremist discourses through several academic research works under the four following themes:
• Deconstruction of extremist discourse: Concepts and methodology
• Deconstruction of the intellectual backgrounds of extremist discourse
• Refutation of the foundations of extremist discourse
• Critique of the extremist discourse
You can follow the live streaming of the Symposium on the official Facebook page of ICESCO via the link below: