ICESCO and Talal Abu-Ghazaleh Foundation explore prospects for cooperation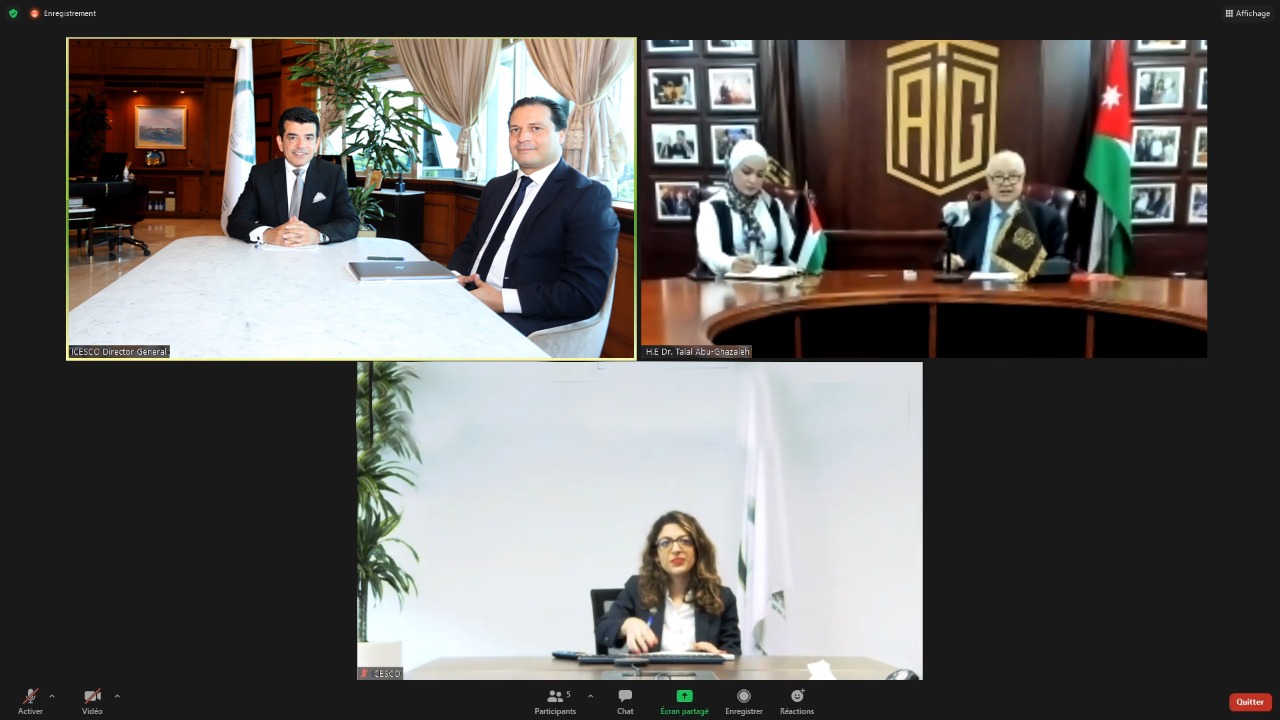 5 July 2021
the Islamic World Educational, Scientific and Cultural Organization (ICESCO) and Talal Abu-Ghazaleh Foundation, today (5 July 2021), held a meeting to explore the joint programs and activities, especially in the field of artificial intelligence, scientific research, digital education and strategic foresight.
The meeting, held via videoconferencing, brought together Dr. Salim M. AlMalik, ICESCO Director-General, and Dr. Talal Abu-Ghazaleh, President of Talal Abu-Ghazaleh Foundation, as well as Dr. Kais Hammami, Head of ICESCO Center for Strategic Foresight, Dr. Mushira Eneizat, International Cooperation and External relations Executive Director at Talal Abu-Ghazaleh Foundation, and Ms. Rim Jalloul from ICESCO Strategic Foresight Center.
At the outset of the meeting, Dr. AlMalik reviewed the main axes of ICESCO's vision and action strategy, which are based on renewal, modernization and openness for the benefit of the Member States and Muslim communities around the world, stressing that ICESCO is keen to cooperate with Talal Abu-Ghazaleh Foundation.
Dr. AlMalik also stated that there are many potential areas of cooperation, including strategic foresight, artificial intelligence, digital education, scientific research, and ICESCO scientific chairs, which are vital areas for Muslim countries.
For his part, Dr. Abu-Ghazaleh emphasized the importance of renewing education methods in the Islamic world to develop scientific research and encourage creativity and invention to contribute to building a creative nation. He also underlined the urgent need to establish ethical oversight on artificial intelligence, underlining his willingness to cooperate on issuing a dictionary of artificial intelligence terms.
Besides, he stressed Talal Abu-Ghazaleh Foundation's keenness to cooperate with ICESCO, stating: "We are proud to be your partner."
Moreover, the two parties agreed to nominate two coordinators to ensure effective communication and follow up to the expert meetings in the areas of cooperation to develop operational plans for practical initiatives, programs and activities that achieve a tangible impact.