ICESCO Holds Training Session in Côte d'Ivoire for Local Women Leaders from 14 African Countries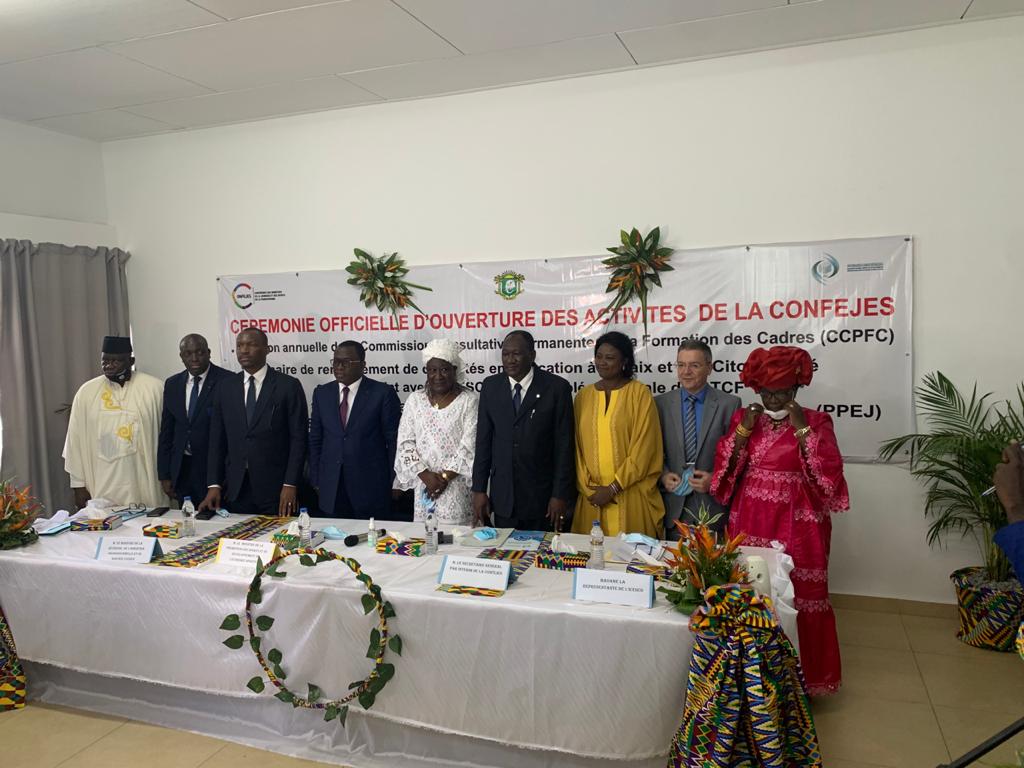 29 June 2021
The training session on "Capacity-Building in Peace Education and the Socio-economic Empowerment of Women" that the Islamic World Educational, Scientific and Cultural Organization (ICESCO) organizes, in cooperation with the Conference of French-speaking Ministers of Youth and Sports (CONFEJES), kicked off on Monday, June 28, 2021. The event took place both via videoconferencing and at ICESCO Regional Center for Education on the Culture of Peace (CRECP), in Yamoussoukro, Côte d'Ivoire, with high-level participation.
The training, which falls within the framework of ICESCO's Year of Women 2021 and the Leadership Training Program for Peace and Security, aims to train 40 local women leaders from 14 African countries in the fields of education on peace and women's socio-economic empowerment, under the supervision of specialized international experts.
During the opening session, held under the patronage of the Prime Minister of Côte d'Ivoire, Ms. Ramata Almami Mbaye, Director of Human and Social Sciences Sector at ICESCO, expressed her happiness to represent the Organization at the activity given its importance in training future leaders, stressing the need to work hard to strengthen the capacities of women and youth to achieve sustainable development, peace and security.
Ms. Mbaye reaffirmed that ICESCO pays special attention to issues of peace and security, and it is keen to provide capacity-building programmes for young people and women while commending the cooperation between ICESCO and Côte d'Ivoire, which CRECP is one of its fruits.
Mr. Modibo Traoré, CONFEJES Secretary-General, praised the cooperation with ICESCO on issues of peace and the empowerment of women and youth.
For his part, Mr. Danho Paulin Claude, Minister of Sports, who attended the opening session on behalf of the Prime Minister of Côte d'Ivoire, highlighted the importance of ensuring peace while welcoming the joint initiative of ICESCO and CONFEJES.
On the sidelines of the two-day training, the ICESCO delegation will participate in the expert workshop on developing an MA program on artificial intelligence for peace and conflict avoidance, in partnership between CRECP and the National Polytechnic Institute in Yamoussoukro.