ICESCO Holds First Session of its Leadership Training Program for Peace and Security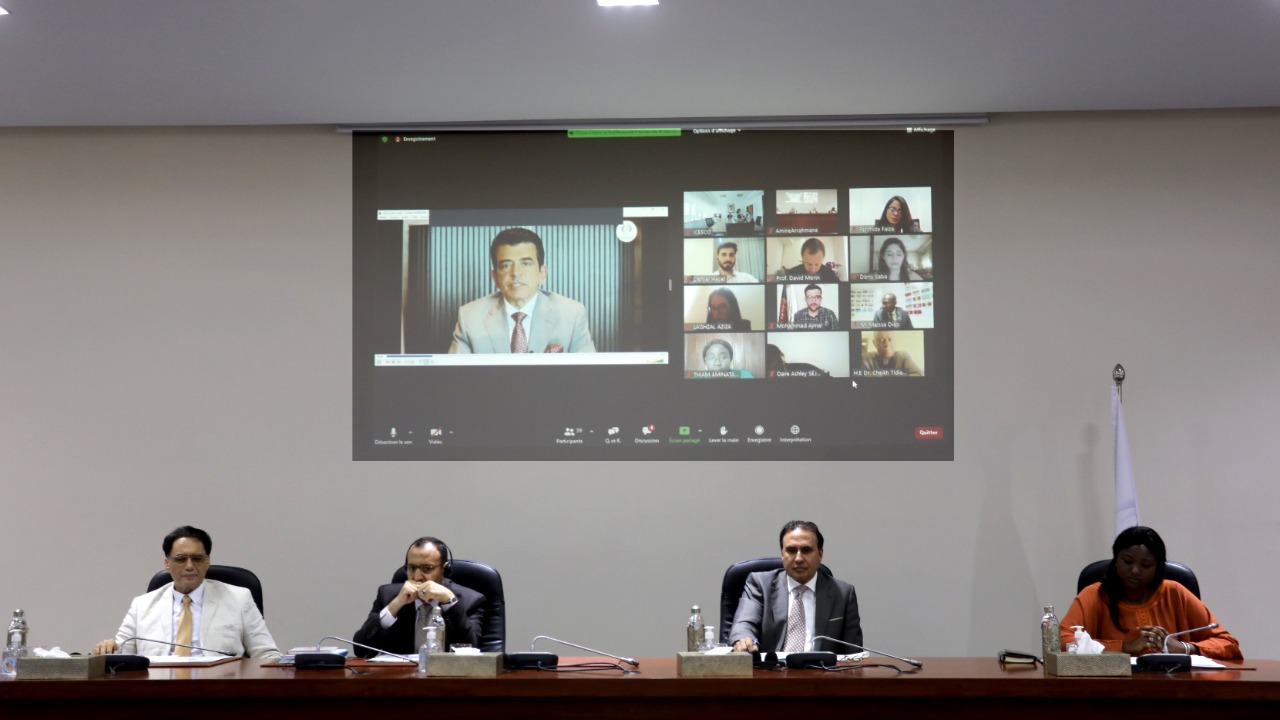 9 June 2021
The Islamic World Educational, Scientific and Cultural Organization (ICESCO) held on Tuesday, June 8, 2021, the first session of its Leadership Training Program for Peace and Security, implemented in partnership with the UNESCO Office for the Maghreb, the Conference of the Ministers of Education of French Speaking Countries (CONFEMEN), and the Conference of Ministers of Youth and Sports of French Speaking Countries (CONFEJES).
The program aims to train young people on leadership for achieving peace and building the societies we want by providing them with knowledge tools through exchange with inspirational leaders and experts to become true ambassadors of peace in their societies.
At the outset of the opening session, held face-to-face at ICESCO headquarters in Rabat and on Zoom platform, Dr. Salim M. AlMalik, ICESCO Director-General (DG), gave a recorded speech, wherein he stressed the importance of training young people to build peace and contribute to the prosperity of their societies, noting that we should encourage our young people and instill in them the values of tolerance and coexistence.
In his address, Dr. Abdelilah Benarafa, Deputy DG of ICESCO, welcomed the participants in the training session and stressed that young people are better able to ensure civilizational mediation to achieve social cohesion, adding that leadership requires real peace.
Dr. Mohamed Zine El Abidine, Director of Culture and Communication Sector at ICESCO, expressed his pleasure to take part in the training with young people, who represent hope for a better future, pointing out that Islam is a reference for the ethics and conditions for achieving and sustaining peace.
For his part, Dr. Cheikh Tidiane Gadio, former Minister of Foreign Affairs of Senegal, Special Envoy of the International Organization of La Francophonie in Mali, stressed the need for peace and security to achieve development and prosperity. He also stressed the importance of the role of African women and youth, who are ready to lead the continent towards a secure and prosperous future thanks to their academic training and professional capabilities.
In his address, Dr. Ahmed Senouni, Deputy Secretary-General of Mohammadia League of Scholars, stressed that faith in human brotherhood ensures further coexistence while stressing the need to find intellectual, value-based and cultural elements that strengthen the immunity of individuals and societies against all threats to peace.
Ms. Ramata Almami Mbaye, Director of Human and Social Sciences Sector at ICESCO, stressed that the Organization's Leadership Training Program for Peace and Security constitutes an important opportunity to share expertise and experiences among experts, inspiring young leaders, adding that ICESCO attaches utmost importance to empowering and integrating women and youth in decision-making circles.
The training session began with the participation of 30 young ambassadors of peace representing 22 countries along with experts in the fields of education, peace, security, and strategic foresight. The event witnessed rich discussions and innovative ideas to achieve peace and promote the values of coexistence and dialogue.
ICESCO will continue the series of virtual training seminars between June and September 2021, which will focus on 10 modules related to peace issues. These young trainees will form the first cohort of ICESCO Youth and Women Network for Peace.