ICESCO and King Saud University Sign Service Contract for Cooperation in Professional Teaching Certificates Project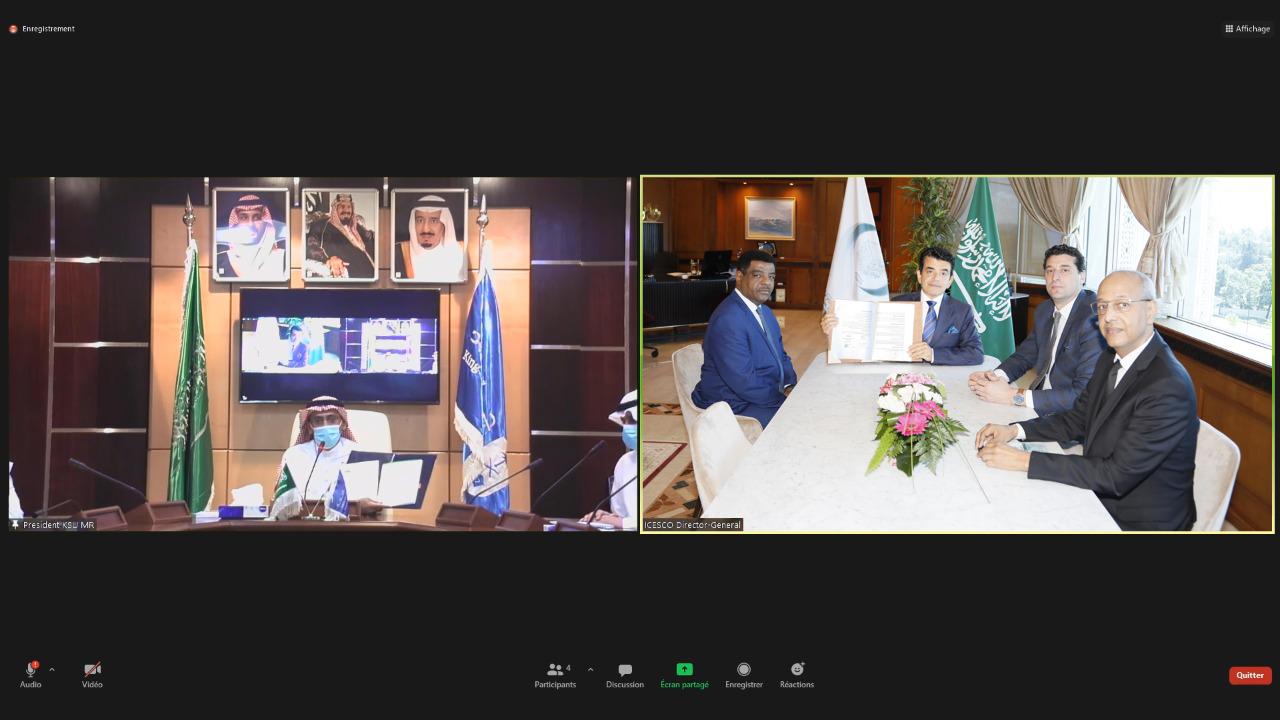 21 April 2021
The Islamic World Educational, Scientific and Cultural Organization (ICESCO) and King Saud University (KSU) in Saudi Arabia, signed yesterday, a service contract for cooperation in implementing the project of professional certificates in teaching for the benefit of teachers and educational specialists in the ICESCO Member States.
During a ceremony held via videoconference, Dr. Salim M. AlMalik, ICESCO Director-General (DG), and Dr. Badran bin Abdulrahman Al-Omar, President of KSU signed the agreement with the participation of several directors and officials at ICESCO, and Dr. Abdullah Al-Thabet, Dean of King Abdullah Institute for Research and Consulting Studies (KAI-RCS).
In his address at the signing ceremony, Dr. Al-Malik expressed his satisfaction with the signing of the contract, which heralds great progress for the educational system in the Islamic world countries. The contract also aims to strengthen the education and training sectors with high professional certificates to incentivize teachers and educational specialists in the Member States for productivity, creativity, and development.
The DG also praised the fruitful efforts that the joint working team exerted which led to the institutionalization of the partnership between ICESCO and KSU and the design of the financial offer and marketing plan for the project. He then expressed ICESCO's keenness to harness all its energies and expertise to ensure the success of the project.
For his part, Dr. Al-Omar stressed that KSU's contribution stems from its desire to achieve global leadership and excellence in advancing science and knowledge and creating a stimulating environment for learning.
Dr. Al-Omar also stated that the project seeks to improve the quality of education and the level of teachers and adopts a new model of professional development through the professional certification model and expressed his optimism that it will be implemented in compliance with the highest quality standards.
Dr. Al-Thabet, Dean of KAI-RCS, reaffirmed KSU's keenness on transferring knowledge to all institutions and expressed his pride in choosing KAI-RCS as its representative in the project.
The service contract between ICESCO and KSU provides for cooperation in building a comprehensive system for professional certificates in education and subprogrammes aimed at providing teachers and educational specialists with the necessary competencies in their various fields of specialization to achieve and develop the objectives set out in curricula.
At its initial stage, the project focuses on the specializations most in need in the ICESCO Member States, educational fields (forensic sciences, Arabic for non-Arabic speakers, science, mathematics, instructional computer, social sciences, early childhood, literacy,) and advanced specializations in the educational field such as evaluation, design, and development.