Training Session on Strategic Foresight in Service of Decision-making Kicks off at ICESCO Headquarters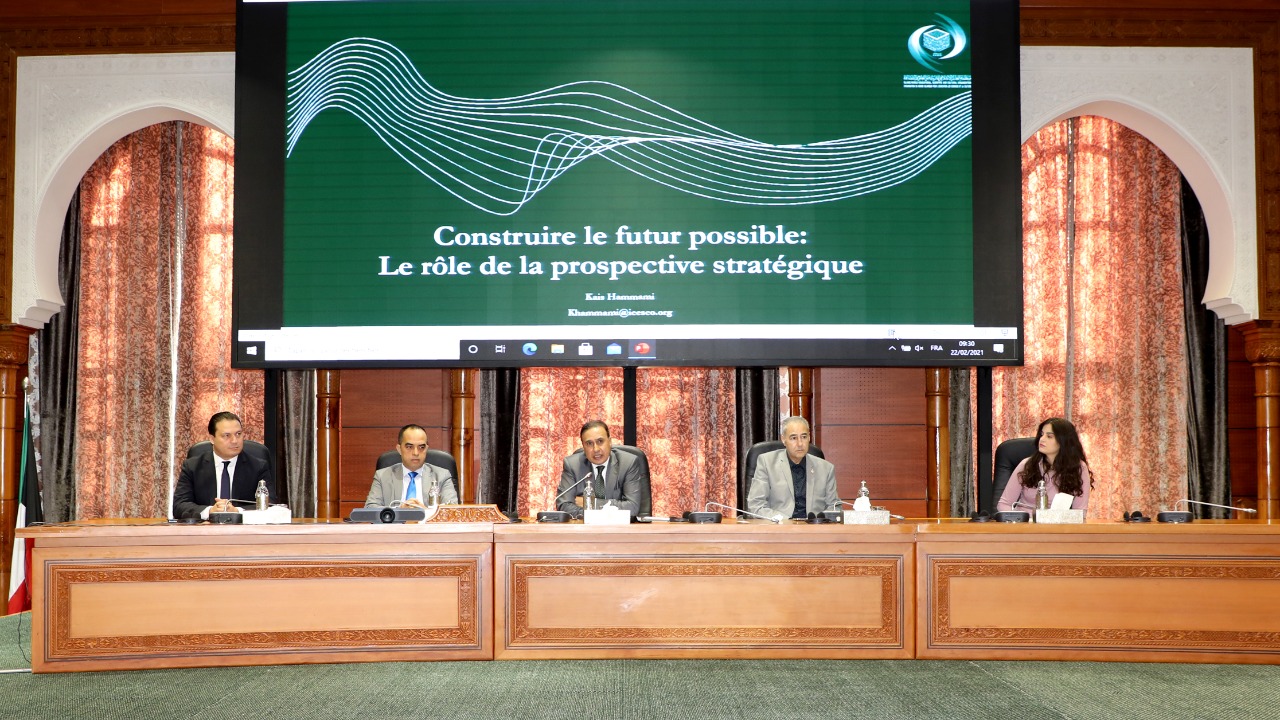 22 February 2021
The training session on strategic foresight in service of decision-making kicked off today, February 22, 2021, at ICESCO headquarters. The Islamic World Educational, Scientific, and Cultural Organization (ICESCO) and Konrad Adenauer Foundation are holding the two-day session.
The session benefits 60 students from the Faculty of Legal, Economic and Social Sciences at Mohamed V University and the Institute for Management Higher Studies (HEM), in addition to young interns at ICESCO. The event falls under the program to support, build the capacities of young people, and provide them with leadership training in the fields of education, science, culture, and communication.
During the opening session, Dr. Abdelilah Benarafa, Cultural Advisor to ICESCO Director-General, underscored that the Organization works towards building a new generation of young men and women in the field of foresight in service of decision-making, noting that foresight should become a risk prediction tool and a vessel for finding solutions to future problems and challenges.
Dr. Ali Seghrouchni, HEM Director, stated that strategic foresight has played a vital role during the COVID-19 pandemic and has proven crucial in our globalized ear. Speaking next, Dr. Mohamed Saber Hussainat, Professor at the Faculty of Legal, Economic and Social Sciences, expressed his thanks to all organizers, stating that the current session is only the beginning of a series.
Ms. Nuhaila Boukili, Representative of Konrad Adenauer Foundation, said, at the session's opening, that our lives are changing and we must all learn about foresight, expressing her hope for the continuity of these sessions.
During his presentation, Dr. Kais Hammami, Director of the Center for Strategic Foresight at ICESCO, and the session's moderator, highlighted the Center's goals including fostering the culture of foresight and encouraging studies in the field, promoting strategic diplomacy, and setting monitoring mechanisms. He reaffirmed that recent studies have shown that nations' progress and civilizational prosperity cannot be achieved unless we look forward towards the future, stressing the significance of this type of training for professionals in the Islamic world, especially in light of the challenges facing countries.
The training session is part of a program that the Center for Strategic Foresight at ICESCO launched, which aims at holding similar training sessions for the benefit of universities, enterprises, and active parties in Member States' civil societies to train professionals and students in their respective fields of work. The training sessions are in line with ICESCO's new vision, which is based on anchoring the culture of anticipation and building the capacities of individuals as well as institutions in the field of foresight, given its importance as a tool for facing change, as reaffirmed by the COVID-19 pandemic.