Nomination Deadline for Sheikh Faisal Bin Qassim Al Thani Award for Education Research Extended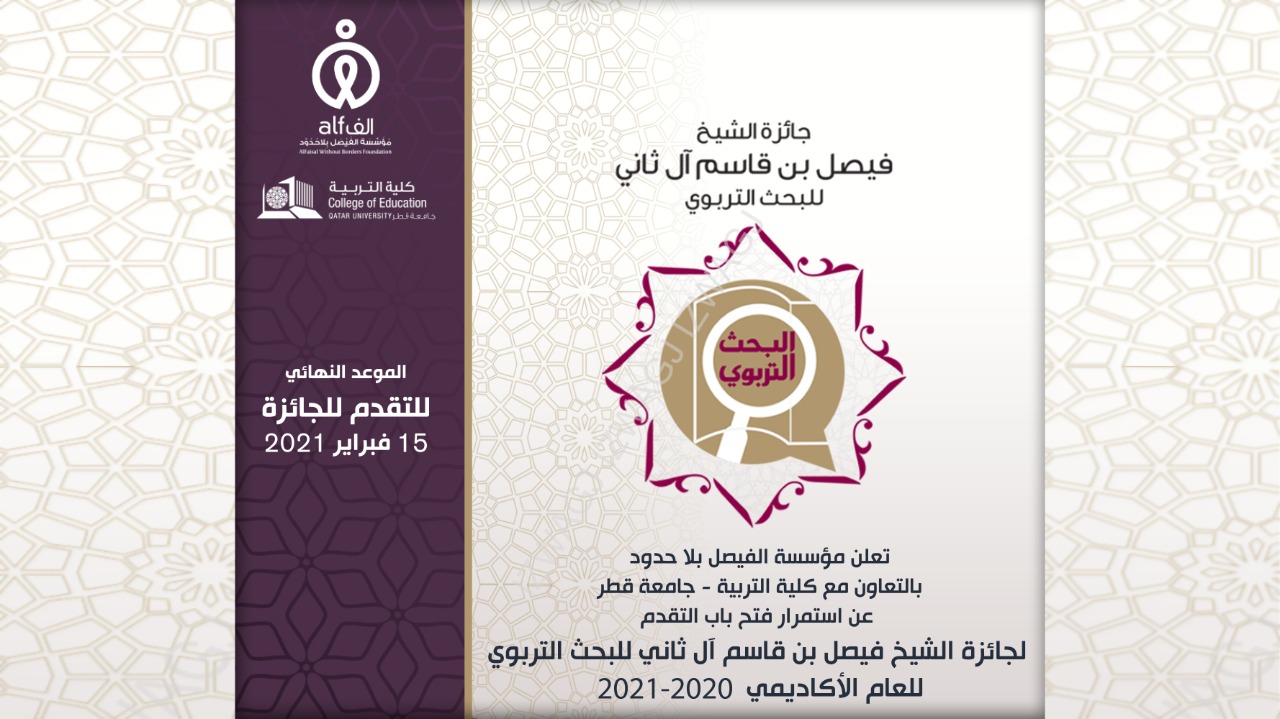 1 February 2021
Al Faisal Without Borders Foundation, in collaboration with the Faculty of Education of Qatar University, extended the nomination deadline for Sheikh Faisal Bin Qassim Al Thani Award for Education Research, for the academic year 2020/2021, until February 15, 2021. The annual award is dedicated to distinguished scientific researchers and includes four categories: academics, higher education students, school principals and teachers, and the best educational research.
The Award aims at encouraging educational research among students and teaching staff, motivating the educational staff to produce adequate educational knowledge that responds to the nature of the educational system in the Arab world. The initiative also seeks to promote the dissemination of educational knowledge at the regional and international levels, from academic research teams and educational professionals from all the Arab countries, and promote comparative studies.
The nominations for the award must submit research works published in Arabic or English. The candidates in the categories of academics, teachers, or school principals must be from one of the Arab world universities, schools, or educational institutions. In the case of joint research works, only the main researcher in the academics category is required to meet the abovementioned requirement. The Award's Board of Trustees will oversee approving the shortlisted entries.
The candidates cannot submit research works that have already been submitted to other awards. The main researcher, who should be proficient in Arabic for all the categories, may not submit more than one nomination. The winners of the last three annual awards cannot present their nominations. In the higher education category, the principal researcher must be a student.
The candidates must also fill in and submit the nomination form before the deadline along with a full electronic copy of the research work via the nomination link on the Award's website (www.alf-era.org/era), as well as a copy of a valid ID card or passport. The candidate must write his full name in Arabic as indicated in the passport.
The Islamic World Educational, Scientific and Cultural Organization (ICESCO) calls upon all people interested in the fields of Sheikh Faisal Bin Qassim Al Thani Award to participate in the ongoing annual competition (2020-2021) and wishes every success for all.