ICESCO Calls for Global Partnership in Islamic Art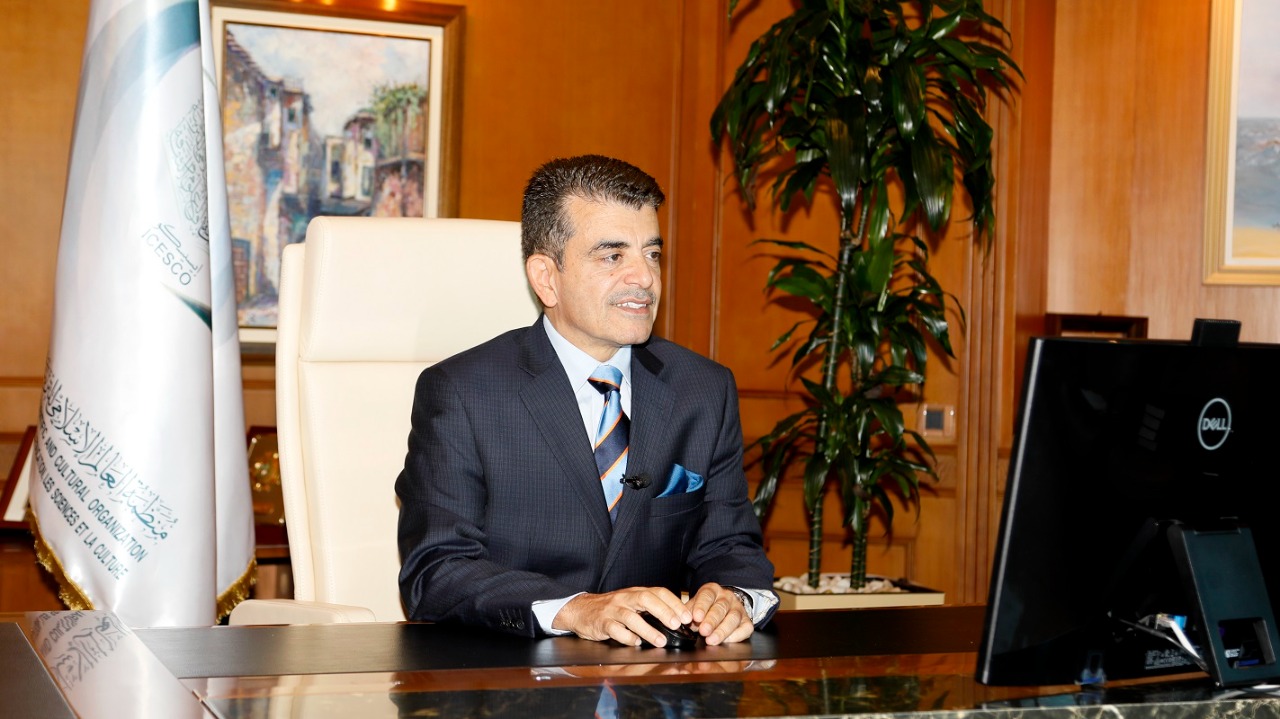 26 November 2020
Dr. Salim M. Al-Malik, Director-General (DG) of the Islamic World Educational, Scientific, and Cultural Organization (ICESCO) called on international organizations, government bodies, and associations working in the field of culture and arts to increase their coordination efforts. The goal is to develop a mutually agreed global artistic system on the role of art in building human civilization and spreading the values of peace.
The DG underscored that art is capable of unifying peoples and nations, refining the spirit of creativity, consolidating cultural diversity and respect for others, and promoting coexistence.
The statement came as part of the DG's address during the "International Virtual Symposium on the Contribution of Islamic Art to Building Human civilization and Spreading Peace Values." ICESCO held yesterday the event in celebration, for the first time, of the International Day of Islamic Art.
The Symposium brought together the representatives of specialized international and regional organizations, ministers, and curators of museums of Islamic art in the world.
On the occasion, Dr. Al-Malik thanked Bahrain for submitting a proposal to allocate a day for celebrating Islamic art. The General Conference of the United Nations Educational, Scientific and Cultural Organization (UNESCO) approved the proposal, and the countries of the Islamic world adopted the initiative, following a recommendation from the 2019 UNESCO Executive Council. The goal was to acknowledge the importance of Islamic art and its contribution to building human civilization throughout history.
ICESCO DG stated that the Organization prepared, during the week from 18 to 25 November 2020, an integrated program to celebrate the International Day of Islamic Art. The week's agenda featured several artistic and creative activities and cultural and literary salons. The agenda also included virtual exhibitions of modern and contemporary art using the Islamic civilization and culture as inspiration; and competitions on Arabic calligraphy to publicize the great contribution of Islamic art to building human civilization.
Dr. AlMalik emphasized that Islamic art remained steadfast through time, present and renewable in all parts of the world, representing the image of a man and his creativity and that we must give insight into what the Islamic civilization has provided to humanity throughout history. He explained that the various types of Islamic art that have shaped Islamic architecture and formed a distinct personality and identity that has left its imprints in all civilizations.
The DG pointed out that ICESCO scheduled, as part of its priorities for the next decade, several programs aimed at supporting art across the world, under its civilization program "ICESCO's Roads to the Future." The umbrella program is key to implementing the Organization's strategic plan for building partnerships and strengthening cooperation.
The cooperation, Dr. AlMalik concluded, is reflected in the establishment of the International Center for Arts, ICESCO's Cultural and Academic Chairs, to promote the Organization's virtual culture in fiction, poetry, and literature.