Dr. AlMalik at 700th Anniversary of Eminent Scholar Kamal Khujandi: ICESCO Publicizes the Figures and Symbols of Islamic Civilization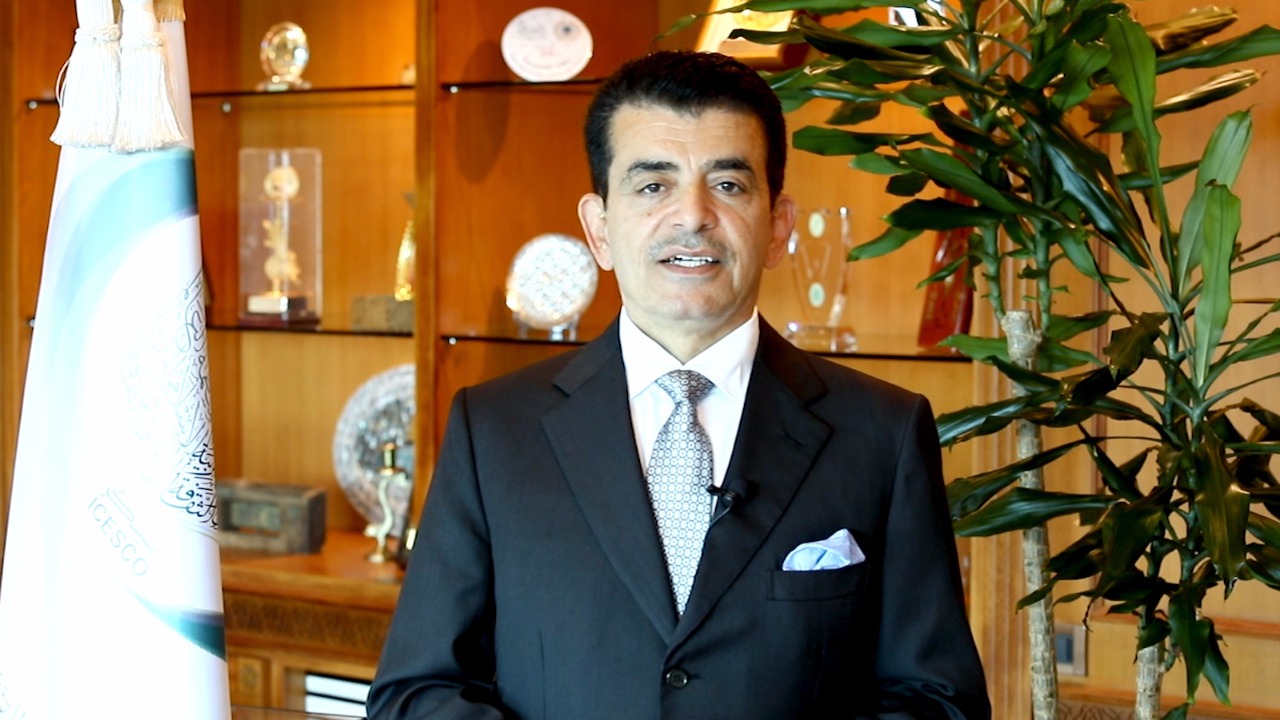 16 October 2020
The Director-General (DG) of the Islamic World Educational, Scientific, and Cultural Organization (ICESCO), Dr. Salim M. AlMalik, reaffirmed that a great deal of tireless work still needs to be done to adequately publicize the image of Islamic civilization. The efforts need to introduce the civilization's figures, showcase the major role it has played throughout the ages, and contribute to human civilization.
The DG also noted that ICESCO, under its new vision, is tirelessly working to promote the true image of Islamic civilization through the preservation of its heritage and the publicizing of its symbols and figures.
Dr. AlMalik made the statement during his pre-recorded address at the opening session of International Conference on the Commemoration of the 700th Anniversary of Eminent Scholar Kamal Khujandi. The Ministry of Foreign Affairs in Tajikistan organized the event today, in the presence of H.E. Emomali Rahmon, President of the Republic of Tajikistan, and senior officials. The attendance also watched a pre-recorded statement by Audrey Azoulay, UNESCO DG.
Dr. AlMalik congratulated, on behalf of the ICESCO family, the President of the Republic and the people of Tajikistan on the organization of this major international conference to commemorate one of the most renowned scholars in the Islamic world and beyond.
The scholar had a deep influence on numerous scholars who followed. The DG also stated that this celebration is an opportunity to shed light on the important role of Tajikistan and its excellent contribution to the history of the Islamic world.
The DG noted the centrality of Islamic philosophy and the outstanding role of its pioneers throughout the history of the Islamic civilization in the resurgence of this civilization whose influence has reached all nations of the globe and enriched the human civilizational heritage.
"Even though the accuracy of history depends on the integrity of its authors, falsehoods can never hide the truth. No matter how long historical truths are eclipsed, they will shine again and astonish the world with the greatness of science, literature, and arts," stressed Dr. AlMalik.
The DG added that ICESCO's vision focuses on showcasing the visible beauty of Islamic civilization to young generations to raise their awareness about its greatness. The goal is also to commemorate the figures of art, thought, philosophy, medicine, and in other fields who significantly marked human civilization and contributed to its advancement.
The aim, Dr. AlMalik underlined, is to ensure that the rest of the world looks at the Islamic world through the same positive angle, in line with the efforts that the Member States deploy to preserve the cultural and civilizational heritage.
At the close of his address, Dr. AlMalik reiterated his invitation to Tajikistan to join ICESCO's Project of the "Digital Encyclopedia of Islamic Civilization."