ICESCO and Morocco's National Museums Foundation Sign Partnership Agreement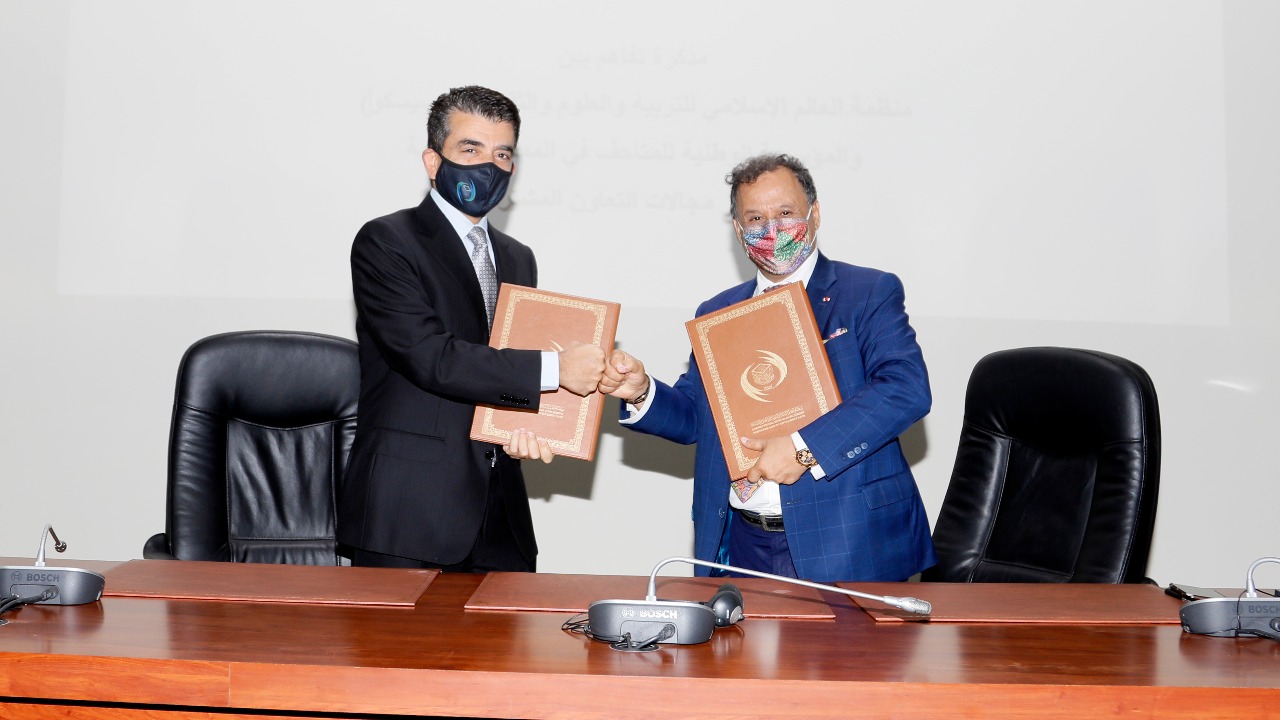 4 October 2020
Jemaa El-fna Museum, a ceramics exhibition, Morocco's virtual exhibitions and cooperation programs
The Islamic World Educational, Scientific, and Cultural Organization (ICESCO) and the Moroccan National Museums Foundation (FNM) signed on Friday, October 2, a partnership agreement to implement several major projects and programs.
The programs include the establishment of the Museum of Moroccan Intangible Heritage at Jemaa El-fna Square in Marrakesh and the exhibition of ceramics and traditional costumes inspired by the works of Eugène Delacroix at ICESCO headquarters. The partnership also opened the door to the organization of an international forum of museums' curators in the Islamic world. Another program is to host the collections of the Mohammed VI Museum of Modern and Contemporary Art.
Dr. Salim M. AlMalik, ICESCO Director-General (DG), and Artist Mehdi Qotbi, FNM President, signed the agreement at the Organization's headquarters. The two parties reaffirmed their commitment to productive cooperation to publicize the heritage and arts of the Islamic world. The goal is to promote the true image of Islamic civilization and culture through art.
ICESCO decided that Morocco be the start-off point as it is the Seat country where it receives great patronage from H.M. King Mohammed VI. The support follows the patronage of H.M. late Hassan II to the Organization since its inception.
The agreement comes as part of ICESCO's celebration of Museums' Week in the Islamic World, which is observed annually from 26 September to 02 October. ICESCO's celebration program features an international webinar on "Harnessing Modern Technology for the Management of Risks and Crises Facing Museums in the Islamic World," which will bring together multiple managers of museum institutions in the Islamic world.
The program also included the DG's visit, last week, leading the delegation of heads of sectors to the Mohammed VI Museum of Modern and Contemporary Art. Mr. Qotbi, Mr. Lakhlifa Dahmani, FNM Secretary-General, and Mr. Abdelaziz El Idrissi, Director of the Museum received the delegation.
The discussions during that meeting centered on ICESCO-proposed cooperation programs and projects, which were incorporated in the partnership agreement. Displaying Morocco's virtual museums at "ICESCO Digital Home" enacted the agreement, on October 2. The museums include Moroccan collections and world paintings which are accessible at: https://www.icesco.org/?p=22850