Speaker of Morocco's House of Councilors Receives ICESCO Director-General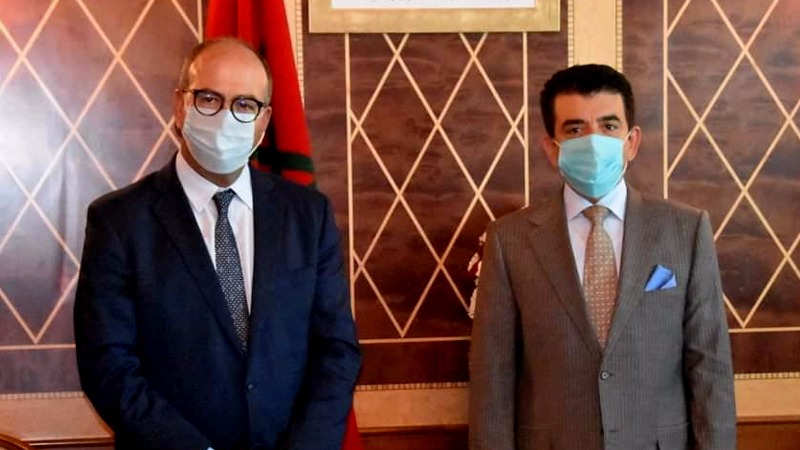 29 September 2020
Mr. Hakim Benchamach, Speaker of the House of Councilors of Morocco, received on September 28, Dr. Salim M. AlMalik, Director-General (DG) of the Islamic World Educational, Scientific, and Cultural Organization (ICESCO). The two officials explored cooperation and partnership between the two institutions in mutual interests.
At the House of Councilors in Rabat, the DG highlighted the key features of ICESCO's new vision. He added that the Organization launched several new programs and projects and amended its regulations and Charter. The Organization also introduced structural changes to its personnel and adopted new strategies. He also stated that ICESCO launched initiatives during the COVID-19 pandemic.
Dr. AlMalik underlined that the Organization started to pay tremendous attention to building constructive communication with governmental and civil institutions in the Seat Country. ICESCO is keen to cooperate with them in implementing joint programs and activities, he continued. The DG expressed ICESCO's interest in developing deeper cooperation with the House of Councilors.
Mr. Benchamach reaffirmed that he has been following up the work of ICESCO, the key roles it plays, and the challenges it addresses at the regional and international levels. He also expressed his appreciation for ICESCO's noble mission and his good wishes for the Organization to make best use of the opportunities at hand.
The Speaker of the House of Councilors noted that he reviewed the broad lines of ICESCO's new vision and expressed his admiration of the changes it introduces, the prospects it opens, and its response to global transformations.
Mr. Benchamach expressed the House's willingness to promote cooperation and partnership with the Organization. He stated that legislative institutions are playing new roles in an extremely changing and transient world, especially in light of the emerging "fifth power" consisting of millions of citizens using social networks to express their opinions.
The Speaker added that the new reality puts legislative institutions in face with new challenges be it in relation to drafting bills, overseeing governmental work, contributing to public policy evaluation or assuming diplomatic parliamentary roles.
Mr. Benchamach expressed his admiration of ICESCO's interest in artificial intelligence and his genuine willingness to conclude "thematic partnerships" between the two parties.
He further explained that the partnerships could touch on issues such as healthcare, education, culture, nutrition, environment, rights, and communication. He also listed national reconciliation experiences in Member States and conflict issues.
He recommended that ICESCO work on setting up a competence bank in the Islamic world to help Member States solve their problems, crises and challenges in health, education, and other fields.
The DG welcomed concluding such partnership with Morocco's House of Councilors as well as Member States' parallel institutions.