Participants in ICESCO Webinar Call on International Community to Guarantee the Right to Education for All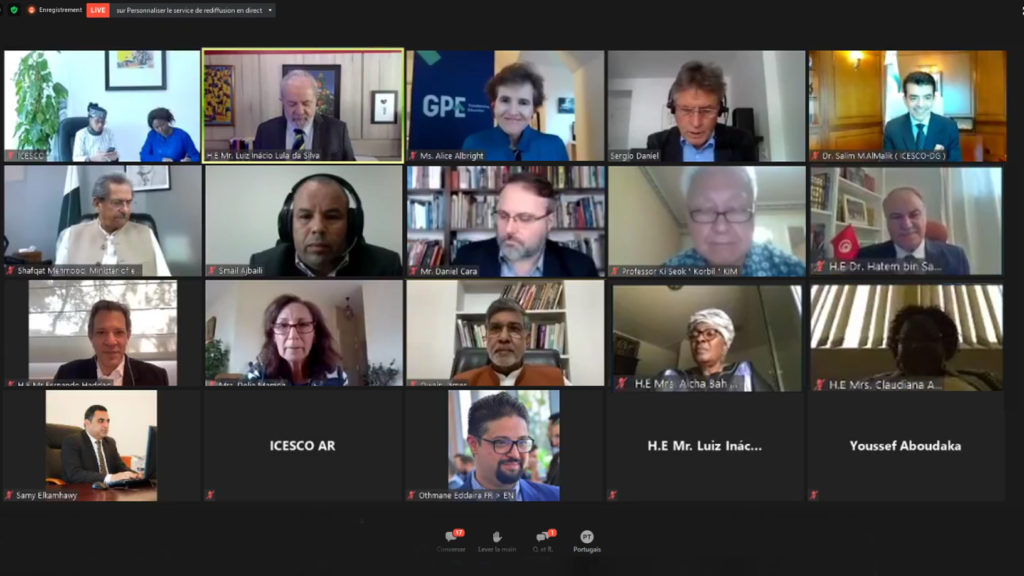 28 September 2020
During their participation at ICESCO's International Webinar on "Education and the 'Societies We Want' Initiative," a number of high-level international figures, ministers, and prominent experts in the field of education called on the international community to guarantee the right to inclusive and equitable education for all.
The participants also called for providing vulnerable countries with the technological devices necessary for the continuity of distance schooling, amid the COVID-19 pandemic. They stressed that education is the only way to build strong nations and attain a better future for humanity.
Mr. Luis Inácio Lula da Silva, former President of Brazil, was the guest of honor at ICESCO's Webinar. The event was in cooperation with the Office of the High Commissioner for Human Rights (UNHR), the Brazilian Campaign for the Right to Education, and Instituto Lula. The Webinar discussed the "necessary roles of education for achieving the features of the Societies We Want."
Dr. Salim M. AlMalik, ICESCO's Director-General (DG), chaired the opening session, during which Mr. Da Silva talked about the Brazilian experience in developing education. He underlined that the poor are not the problem but rather an integral part of the solution if countries equip them with good education and utilize their competences.
"Education is the foundation for building nations," the former Brazilian president stated.
The DG stressed the need to rethink the education systems and adopt new creative teaching methods. He added that the aim is to build the education of the future, which will follow diverse patterns. ICESCO adopts the subject as an organization interested in foresight to help its Member States build their respective education systems, he noted.
The Webinar also witness the participation of Mr. Kailash Satyarthi, Winner of the Nobel Prize in Peace in 2014. Mr. Satyarthi stated that vulnerable groups should benefit from the global budgets to mitigate the impact of the pandemic. He also called for increasing this budget, estimated at 8 trillion dollars; and increasing the sum allocated for poor countries by 20%.
Ms. Alice Albright, Chief Executive Officer (CEO) of the Global Partnership for Education, noted that the "societies we want" cannot be built without guaranteeing quality education for every child. The CEO added that building healthy societies also entails ensuring gender equality in education. She argued that an educated girl is more likely to save her families from poverty, protect her children, and send them to school.
Dr. Koumbou Boly Barry, Director of ICESCO's Education Sector, chaired the Webinar's first session to address "Policies and Mechanisms for Ensuring Equitable and Inclusive Quality Education for All."
Several Member States' Education Ministers gave statements during this session. Mr. Shafqat Mahmood, Minister of Federal Education and Professional Training in Pakistan, stressed the need to reconsider programs and reform school syllabi and curricula to keep up with graduates' competences and job market requirements.
Mr. Fernando Haddad, Former Brazilian Minister of Education, stated that ensuring quality education requires three conditions:
Motivating teachers, appreciating their work, and providing them with continuous training;
Ensuring sustainable funding for a sustainable implementation of educational policies;
Ensuring quality education through permanent evaluation.
Dr. Hatem Ben Salem, former education Minister of Tunisia, noted that the international community should be committed to education in a way that allows for developing a roadmap and a clear vision for future education and innovative approaches.
Ms. Aïcha Bah Diallo, former education Minister of Guinea, stated that education is the backbone of sustainable education. It is of paramount importance to ensure its quality to achieve development, she added noting that women's education promotes countries' economies, encourages further tolerance, and preserves social cohesion.
Ms. Claudiana Ayo Cole, Minister of Primary and Secondary Education in Gambia, said that quality education is a tool for changing the lives of individuals. Education ensures stability and guarantees the full enjoyment of human rights as a basis for achieving sustainable development.
Ms. Ramata Almamy Mbaye, Director of Human and Social Sciences Sector at ICESCO, moderated the second session. Experts and practitioners in the field shared thoughts on the topic.
Dr. Daniel Cara, professor at São Paulo University and Board Member of the Brazilian Campaign for the Right to Education, touched upon the relationship between education and the economy. He stressed that the economy should serve people through investing correctly in education.
Ms. Delia Mamon, chairwoman of "Graines de Paix", (Seeds of Peace) an association based in Switzerland, affirmed that to build a better world, we should think on a larger scale. She suggested to focus on creative solutions and motivate children to think by themselves.
Professor Ki-Seok "Korbil" Kim, Chairman of Educators Without Borders (EWB), South Korea, maintained the necessity to change human behavior to prevent diseases. Education is incredibly important to stop discrimination and illegal practices, he added.
"We want to make our societies developed, healthy, resilient and sustainable because societies cannot move forward without the participation of all," commented Ms. Mbaye underlining that "Covid-19 vaccines should be made available for all without discrimination."
Dr. AlMalik stressed, in his closing remarks, the need for combating gender discrimination and called for mobilizing financial resources to develop educational systems through innovative methodologies that suit future requirements.