ICESCO Conference: International Ministers, Expert Recognize Seriousness of Illicit Trafficking in Cultural Property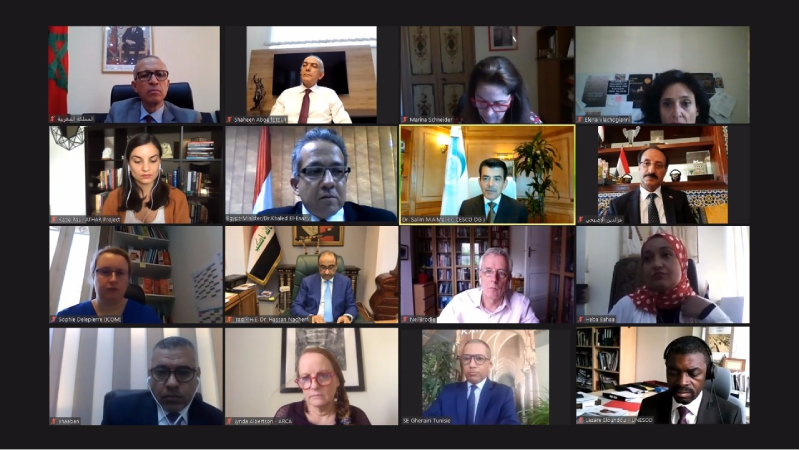 29 July 2020
The participants in the International Virtual Conference on "Combating Illicit Trafficking in Cultural Property and its Restitution," recognized yesterday, July 28, the seriousness of illicit trafficking in cultural property threatening the human civilizational heritage.
This event came amid the worsening crime and the growing e-markets and auctions of stolen artifacts on social media.
The statements were part of the Islamic World Educational, Scientific and Cultural Organization's (ICESCO) conference, in cooperation with the Egyptian Ministry of Tourism and Antiquities.
Several participating ministers in charge of heritage in their respective countries stressed the need to update the relevant national legislation and international conventions in line with the increase of cultural property theft amid conflicts and instability in many Muslim countries. Prominent international experts in the restitution of antiquities seconded the call.
Dr. Salim M. AlMalik, ICESCO's Director-General, and Dr. Khalid Al-Anani, Egypt's Minister of Tourism and Antiquities, gave the opening addresses. The conference included four working sessions. Dr. Khalid Al-Anani chaired the first session to explore the current situation of illicit trafficking in cultural property in the Islamic world.
Each of Dr. Hassan Nazim, Minister of Culture, Tourism and Antiquities in Iraq; Mr. Jean-Michel Abimbola, Minister of Tourism, Culture and Arts in Benin; Mr. Abdel Illah Afifi, representative of the Minister of Culture, Youth and Sports in Morocco; Ms. Elena Vlachogianni, representative of the Minister of Culture and Sports in Greece; and Mr. Roberto Ricardo, representative of the Minister of Culture in Italy, made a presentation.
Dr. AlMalik chaired the second session to tackle challenges to combating illicit trafficking in cultural property with a focus on the methods developed for trafficking in cultural property.
The session included three presentations. Mr. Ezzedin Saeed Al-Asbahi, Ambassador of Yemen to Morocco, stated that the war and armed conflict in his country had been the greatest challenges to the protection of the Yemeni cultural properties. He added that Yemen had lost thousands of cultural artifacts, including the oldest version of the Holy Quran written on a deerskin leather and the oldest version of the Bible.
On his part, Dr. Ghazi Gherairi, Ambassador of Tunisia to UNESCO, reaffirmed that the underwater heritage is as important to conserve and protect as other types of heritage. Mr. Lazare Eloundou Assomo, Director of Culture and Emergencies –UNESCO, said that the legal and legislative issues should be taken seriously to combat such illicit trafficking.
Ms. Sophie Delepierre, Head of the heritage protection and capacity building department at the ICOM Secretariat, stressed the need to promote countries' protection methods of their heritage. Finally, Ms. Lynda Albertson, CEO of ARCA, stated that ARCA seeks to provide historical files of any artifact as a first step toward combating suspicious collections.
Ambassador Khalid Fathalrahman Omer, Director of Dialogue and Cultural Diversity at ICESCO, chaired the third session to discuss the "Challenges to combating illicit trafficking in cultural property: International conventions and national legislation."
Ms. Katie A. Paul, Founder and Co-Director of ATHAR Project, highlighted the status of illicit trafficking in cultural property on social media and ATHAR's efforts to track down people behind such crime.
Mr. Matthew Bogdanos, Manhattan New-York Attorney, also pointed out the importance of cooperation and partnership in combating illicit trafficking in cultural property. Mr. Neil James Brodie, an International expert in cultural heritage protection, stated that laws should be developed, and research works upgraded to combat these crimes.
Ms. Marina Schneider, Legal Officer and Treaty Depositary UNIDROIT, reaffirmed that purchasers' goodwill is not an excuse to condone antiquities trafficking and does not preclude its criminalization.
The final presentation was made by Dr. Samuel Hardy, Cultural property criminologist, Oslo University, Norway, who stated that there are popular markets of stolen artifacts.
Mr. Al-Asbahi chaired the last session on the "role of ICESCO in enhancing countries' capacities to combat illicit trafficking of cultural property." During this session, four presentations were made.
Dr. Shaaban Abdel Jawad, Supervisor of the Restituted Antiquities Department, Egypt, stated that Egypt succeeded in recovering thousands of artifacts given that this action is part of the Egyptian government's priorities.
Dr. Eyad Kadhem, Director General of Cultural Heritage, Iraq, also underscored the continuous efforts of the Iraqi authorities to restitute thousands of stolen artifacts. He added that the Iraqi laws impose severe sanctions against any illegal acquisition of artifacts.
Ms. Nawal Dahmani, Central Director in charge of the file of illicit trafficking in cultural heritage, Algeria, said that capacity-building in the field of heritage should not be limited to experts.
The last presentation was delivered by Dr. Shaheen abu el-Futuh, Professor of International Law, Austria, who highlighted that the Egyptian law considers artifacts trafficking as an imprescriptible offense and called on all countries to adopt such principle.
At the closing session, Egypt reiterated its offer to hold a face-to-face conference in the coming months, under the patronage of its President Abdel Fattah al-Sissi, on combating illicit trafficking in cultural property.
The country also announced the upcoming issuance of a declaration that meets the aspirations of the participants.
Dr. AlMalik made a closing address wherein he underscored that the outcome of this conference is represented by cooperation and solidarity in combating illicit trafficking in cultural property. He also thanked Egypt for convening a conference, under the patronage of President al-Sissi, which will likely give impetus to the pertinent issue.