ICESCO announces a new programme for skills and knowledge development in the field of Arabic language for non-Arabic speakers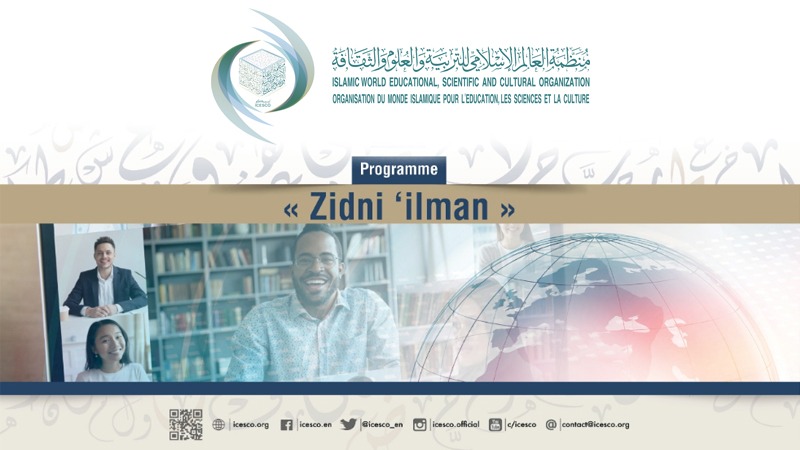 13 June 2020
As part of "ICESCO Digital Home," the Islamic World Educational, Scientific and Cultural Organization (ICESCO) launches a new educational programme for knowledge and skills development, entitled "Zidni 'Ilman" within the framework of the initiatives of ICESCO Center of Arabic Language for non-Arabic Speakers. The programme comprises two parts: an educational part devoted to national teachers, counselors and experts working in the field of Arabic Language for non-Arabic Speakers; and another part dedicated to knowledge and language open to students of Arabic speaking other languages from all around the globe.
Through an online form provided on the link: https://survey.icesco.org/index.php/193712?lang=ar
ICESCO will allow in the first phase of "Zidni 'Ilman" programme, national teachers, counselors, and experts to address their questions to a host of senior specialized experts cooperating with ICESCO. Afterward, the experts will answer the questions through a series of videos that will be posted on ICESCO's website, YouTube channel, and Facebook page.
Among the main objectives that ICESCO aims to achieve through this program, is to provide distance educational programme that meets teachers' concerns and needs; update, renew and develop the educational materials for the teachers of Arabic language for non-Arabic speakers; establish communication channels between students from different races and cultures, and senior specialists of teaching Arabic language; foster the culture of debate, dialogue and cooperative learning for students of Arabic language; develop their sense of inquiry and research; and provide knowledge, educational and linguistic reference for frequent questions in the field of Arabic language for non-Arabic speakers.
This programme is an enrichment to ICESCO's previous contributions in providing educational, cultural and scientific alternatives throughout the lockdown period, and a contribution to building the bridges of sustained educational and scientific communication in the field of Arabic language for non-Arabic speakers between scientists, experts, educational staffs, and students. It also mirrors ICESCO's commitment to meet the needs of the teachers of Arabic language for non-Arabic speakers by developing their educational capacities and providing distance educational guidance to make up for face-to-face training during the lockdown, meet the needs of students speaking other languages in terms of continuous development of research and thinking capacities, raise constructive questions, and enhance and enrich their linguistic skills and knowledge.
It is worth mentioning that ICESCO, through the Center of Arabic language for non-Arabic Speakers, launched in April and May an initiative entitled "Learn Arabic, Master it at Home", "Bayan" award for creative expression in Arabic language, and "Languages of Africa, Bridges of Culture and History" in the field of writing the African languages in the standardized Arabic script. All details on the link:
https://www.icesco.org/?p=22785