In cooperation with ICESCO… distribution of educational devices and equipment to Moroccan students and schools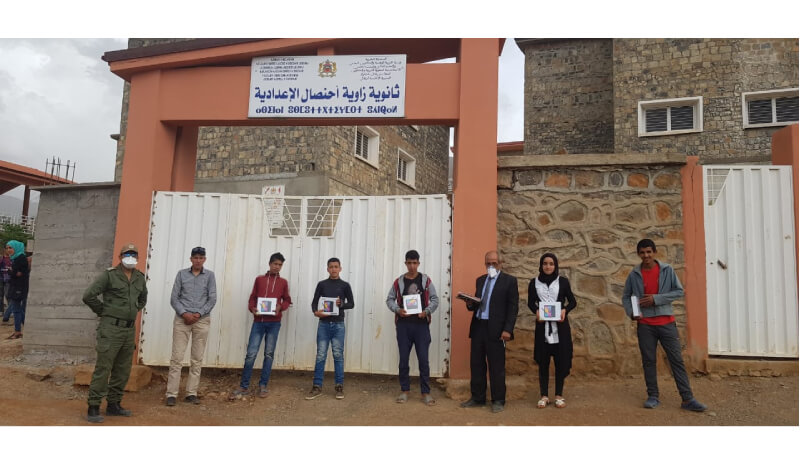 29 May 2020
The Moroccan National Commission for Education, Science and Culture stated that it had distributed the technological devices and educational equipment offered by the Islamic World Educational, Scientific and Cultural Organization (ICESCO) and its partner donors.
This is part of supporting the efforts of Member States to counter the repercussions of Covid-19 and ensure the continuity of the educational process after the closure of the educational institutions.
In its letter to the Secretariat of the National Commissions and Ministerial Conferences of ICESCO, the Moroccan National Commission highlighted that ICESCO and its partners offered an amount of US$58,000 to support distance education in the Kingdom of Morocco, of which US$30,000 was allocated to the Regional Academy of Education and Training of Marrakech-Safi and the US$28,000 to the Regional Academy of Education and Training of Beni Mellah-Khenifra.
Also, the Commission underlined that, in Beni Mellah-Khenifra, 350 tablets were distributed to students who attended to schools along with their parents, in coordination with the local authorities while taking all the precautionary safety measures. The beneficiaries are as follows:
1.​Communal School of Zaouiat Ahansal;
2.​School Group of Zaouiat Ahansal;
3.​School Group of Tighighit Znati;
4.​School Group of Tighanmin;
5.​High School of Zaouiat Ahansal.
Moreover, the Moroccan National Commission stated that the distribution started at 10:00 a.m. and continued for almost 12 hours to cover all the said schools with the participation of the Caïd of Zaouiat Ahansal, Principal of the High School of Zaouiat Ahansal, and the representative of the population at the Rural Town Council, in the presence of some parents.
The Commission added that the distribution of equipment to the students and schools concerned would continue tomorrow, Saturday 30 May 2020.