ICESCO transmits messages through videos and infographics to raise awareness about Coronavirus threats and support distance learning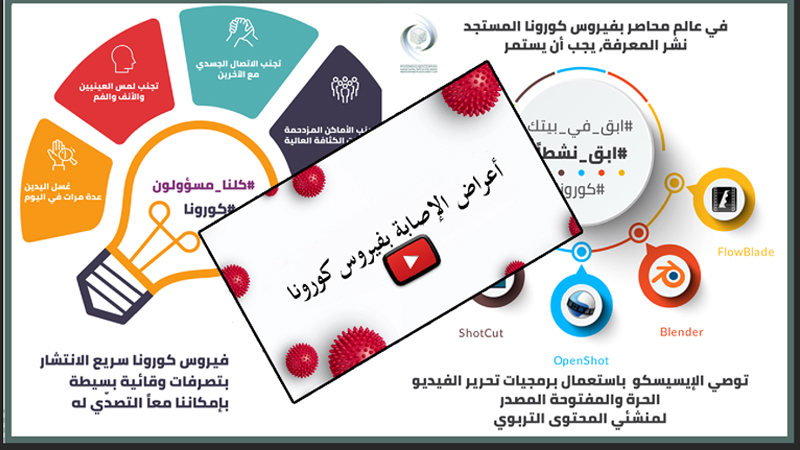 19 March 2020
As part of its commitment to support efforts to combat Coronavirus pandemic (COVID-19), the Islamic World Educational, Scientific and Cultural Organization (ICESCO) started producing video clips and infographics to contribute to raising public awareness about the importance and ways to face this global pandemic and continue working and learning under these circumstances.
The first video contains a definition of the virus and shows how it differs from the seasonal flu and provides necessary protection measures against the pandemic. As for the infographics, the first lists the most famous free and open source software for editing instructional videos while the second gives tips on basic preventive behaviors to limit the spread of Coronavirus.
The Organization will continue producing multimedia-based materials to propose accessible alternatives for distance learning. In this regard, it reiterates its call to the competent authorities in Member States to make use of the available alternatives the Organization adopted, namely shifts and telecommuting.
In giving effect to the orientations to support and help Member States' competent authorities, ICESCO decided to develop emergency response mechanisms to the urgent situations and ensure the continuity of education and training, as announced in its yesterday's statement.
In this context, the Organization underscores the primacy of the values of solidarity and unity among Member States and with all the world's nations and peoples and calls for prioritizing humanity's interest in these trying circumstances.
ICESCO will constantly follow the repercussions of the spread of Coronavirus (COVID-19) on the educational, scientific and cultural conditions in Member States. To this end, the Organization will provide Member States with the most efficient ways likely to support their efforts as may be required by future developments, while reiterating its confidence in the ability of the countries of the world to overcome this crisis and curb its social, economic and humanitarian consequences.