Reviewing preparations for Hamdan– ICESCO Prize For Voluntary Development of Education Facilities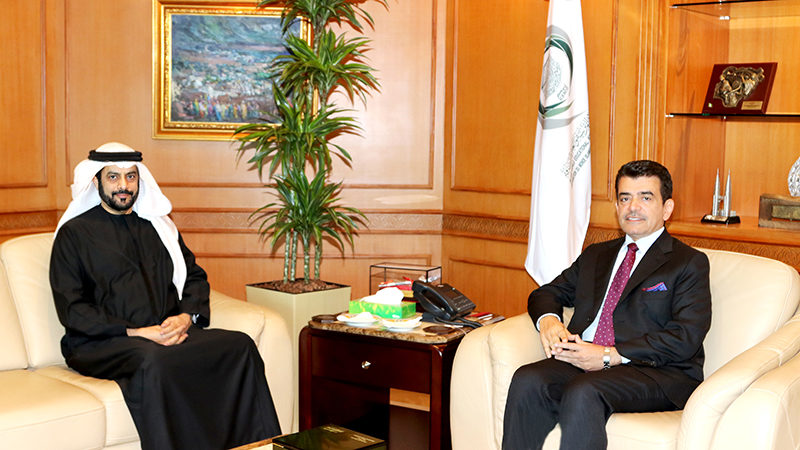 20 February 2020
The Director General of the Islamic World Educational, Scientific and Cultural Organization (ICESCO), Dr. Mohamed M. AlMalik, today, at ICESCO headquarters in Rabat, met with Dr. Khalifa Al Suwaidi, , member of the Board of Trustees of Hamdan bin Rashid Al Maktoum Foundation for Distinguished Academic Performance, and together they explored ways to promote cooperation between ICESCO and the Foundation in the sector of education, in light of ICESCO's new vision, which adopts openness and cooperation with the civil society institutions operating in the Organizations' areas of competence.
The two parties also reviewed the preparations for the awarding ceremony of "Hamdan– ICESCO Prize for Voluntary Development of Education Facilities in the Islamic World Countries", to be held at ICESCO headquarters early April 2020, in the presence of His Highness Sheikh Hamdan bin Rashid Al Maktoum, Chair of the Prize, Deputy Ruler of Dubai and Minister of Finance of the United Arab Emirates. Likewise, the two parties discussed arrangements for holding the second edition of the Prize.
The meeting was attended by Dr. Ahmed Said Bah, Director of External Relations and Cooperation at ICESCO.
Today's meeting is the second between Sheikh Hamdan bin Rashid Al Maktoum and Dr. AlMalik, after the one held early February, in Zabeel Palace in Dubai, following the close of the 40th session of ICESCO Executive Council, held in Abu Dhabi, UAE, which adopted the Organization's new vision and a number of key decisions contributing to ICESCO's fresh start. During the first meeting, Dr. AlMalik invited His Highness to award the winners of the Prize's first edition.
Established in 2017 with support from His Highness Sheikh Hamdan bin Rashid Al Maktoum and in cooperation with ICESCO, the Prize aims to incentivize and pay tribute to authors of voluntary initiatives and charity works in education, namely in the development of educational institutions in Islamic world countries.
The Prize is awarded biennially to three winners from among individuals or institutions having contributed to developing education institutions in Islamic world countries. The value of the Prize stands at US$ 300,000. Each winner receives a shield and a reward of US$100,000 which will go to charity work, especially developing education institutions.