ICESCO-Indonesia: cooperation prospects explored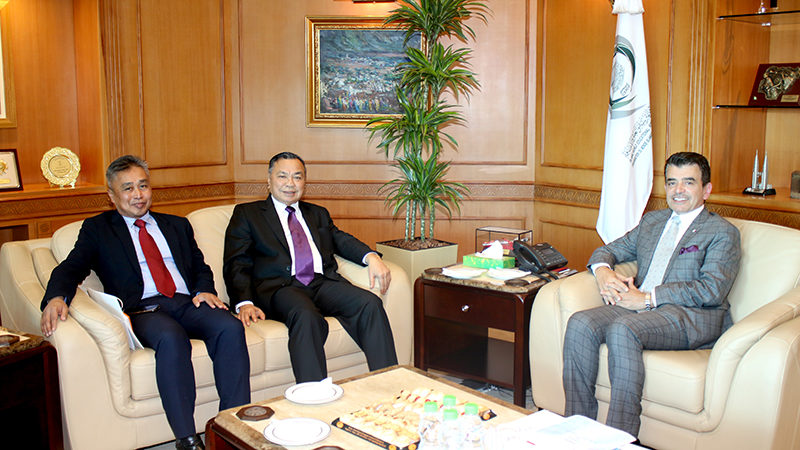 11 February 2020
The Director General of the Islamic World Educational, Scientific and Cultural Organization (ICESCO), Dr. Salim M. AlMalik, yesterday at ICESCO headquarters in Rabat, received Mr. Harsul Azwar, Ambassador of Indonesia to Morocco, and together they explored cooperation prospects between ICESCO and Indonesia in the next stage.
During the meeting, the parties explored ways to foster relations through programmes and initiatives mutually agreed by the Indonesian ministries of education, culture and science and ICESCO, as part of the new start of the Organization and its new vision, which came into effect after its adoption by the 40th Executive Council (Abu Dhabi, UAE, 29-30 January 2020).
Dr. AlMalik reaffirmed ICESCO's appreciation to Indonesia, as it is one of the important Member States and commended its progress and transition toward the future, its outstanding contribution to technological developments and its ancient monuments and landmarks attesting to the glorious Islamic civilization.
Moreover, ICESCO Director General expressed his thanks to the Indonesian Government for its willingness to pay the remainder of its arrears to ICESCO's budget and commitment to regularly pay its contributions.
Talks during the meeting also touched on details of a future visit by the Director General to Indonesia to explore the frameworks of future cooperation with senior officials.
The meeting was also attended by Mr. Hanung Nugraha, Counsellor for Political and Economic Affairs at the Indonesian Embassy; Mr. Mahmudin, Counsellor for Social and Cultural Affairs; Mr. Najib Rhiati, Director of Culture; Dr. Ahmed Said Bah, Director of External Relations and Cooperation; Mr. Mohamed Ghemari, Director of the Secretariat of the General Conference, Executive Council and Specialized Ministerial Conferences; Dr. Kais Hammami, Director of the Center of Strategic Foresight; and Dr. Mohamed Hedi Shili, Legal Advisor to ICESCO Director General.