23rd FUIW Executive Council kicks off in Sharjah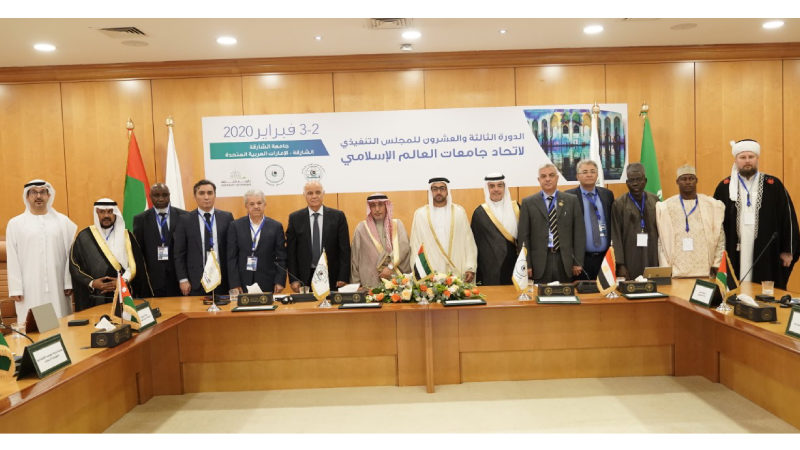 2 February 2020
Today, the 23rd session of the Executive Council of the Federation of the Universities of the Islamic World (FUIW) kicked off today and will continue over two days at the University of Sharjah, State of the United Arab Emirates.
The opening session started with an address by Sheikh Fahim Al Qasimi, Chairman of the Department of Government Relations in Sharjah, wherein he hailed the holding of the Executive Council in Sharjah, wishing every success to the participants toward more excellence for joint Islamic action, notably in education and scientific research.
Next, Dr. Ahmed Al-Ameri, Rector of Imam Muhammad Ibn Saud Islamic University, Kingdom of Saudi Arabia, President of the 7th FUIW General Conference, Chairman of the Executive Council, took the floor and underlined the importance of the current session of the Council as it will discuss reports on the evolution of the Federation since its inception and the future prospects of its action.
Dr. Salim M. AlMalik, ICESCO Director General, FUIW Secretary General, delivered an address wherein he first expressed his thanks and gratitude to His Highness Sultan bin Muhammad Al-Qasimi, member of the Federal Supreme Council of the United Arab Emirates, Ruler of Sharjah, President of the University of Sharjah, for his unstinting support to ICESCO through his patronage of ICESCO Regional Office in Sharjah and his constant willingness to contribute to the achievement of cultural, scientific and educational development of Islamic world countries.
Moreover, ICESCO Director General underscored the important role that should be assumed by the Federation to promote cooperation and coordination between Islamic world universities in the next stage so that it will turn into platform for science and knowledge and leverage for cooperation, complementarity and exchange between universities.
At the close of his address, Dr. AlMalik thanked the administration of the University of Sharjah, on top of it its Chancellor, Dr. Hamid M. Al Naimiy, for the hosting and good reception and organization of this session of the Executive Council.
For his part, Dr. Hamid M. Al Naimiy, made an address in which he expressed his delight for the University's hosting of this important event, lauded the role of the Federation in supporting cooperation among universities and welcomed the participants wishing them every success in their work.
After the reception, the working sessions saw the examination of the Report of FUIW Secretary General on the Federation's General Secretariat between the 22nd and 23rd sessions of the Executive Council; the Federation's Financial Report for 2018; the Report of the Secretary General on the Federation's Current Situation and Future Prospects; and the membership applications submitted by many universities of the Islamic world.
Established in 1987, the FUIW works under the umbrella of ICESCO and has now 347 Member Universities and higher education institutes.